'We cannot destroy mosques': Duterte makes a U-turn on his controversial mosque bombing statement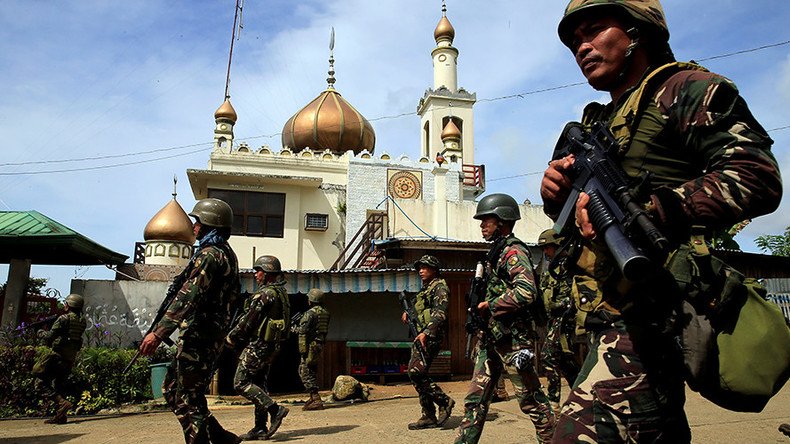 Fearing backlash from the local Muslim community in Marawi, Philippines President Rodrigo Duterte revoked his earlier permission for the military to bomb mosques on Mindanao island where government forces are battling an ISIS-linked insurgency.
Saturday marks the 103rd day in the battle against terrorists in Marawi. On Wednesday, Duterte noted that the liberation of the city is stalled because he had previously stopped a plan to bomb the mosques. To mend the slowdown of army operations against the militants, Duterte allowed the army to decide whether or not to bomb mosques to drive local Islamic State-aligned (IS, formerly ISIS/ISIL) Maute and Abu Sayyaf terrorist groups out of Marawi City.
"The option is already yours because we cannot have a stalemate for over one year," he said in a speech that marked the 100th day of fighting against insurgents in Marawi.
"The military had long wanted to bomb the mosque to capture or kill the leaders there, and in the process, sacrifice the hostages who are all Filipinos, maybe Maranaos and a mingling of Christians, Tagalog, there inside," Duterte said, according to IBT.
But on Friday, Duterte made a U-turn on his offer to target Muslim places of worship. The Philippines leader stressed that the government should consider the cultural and ideological implications of destroying the mosques.
"We cannot destroy the mosque... It will breed an unending hatred," Duterte said in his speech on Friday, asking "What will it give us in terms of goodwill?"
"I said, 'No, it will just create more animosity and outright hostility in the government. The Maranaos will not forgive us,'" Duterte said on Friday, the Philippines Inquirer reported.
Prior to Duterte's speech on Friday, local commanders said they would not bomb terrorists hiding in mosques with hostages inside.
"We will not bomb the mosques where the enemies are hiding along with their hostages. As much as possible, we want to save the lives of hostages," Capt. Jo-Ann Petinglay, a spokesperson for the military's Western Mindanao Command, told the Inquirer on Thursday. "If we do that, the problem of extremism will worsen and we will gain more enemies."
The commander of the 1st Marine Brigade pointed out that the military has avoided targeting Mosques since the counter-terrorist operation began in late May.
"That has made it difficult for us, because we do not bomb or shoot mosques. We really have to preserve [them]. Some were hit by bullets but not because the intention was to destroy it. But in the future, you will see how we tried to preserve the mosques," Brig. Gen. Milquiades Ordiales told reporters on Thursday.
The fighting has so far claimed the lives of at least 45 civilians and 133 soldiers. The army has eliminated 617 terrorists.
You can share this story on social media: