Putin on N. Korea crisis: Tensions 'balancing on brink of large-scale conflict'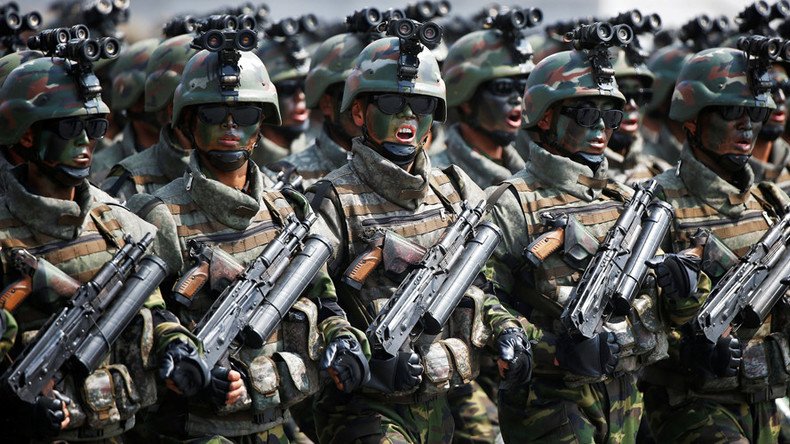 Attempts to pressure North Korea into stopping its nuclear missile program through sanctions are "misguided and futile," Russian President Vladimir Putin warned, adding that threats and provocations would only add more fuel to the fire.
"The situation on the Korean Peninsula, where tensions have grown recently, is balancing on the brink of a large-scale conflict. Russia believes that the policy of putting pressure on Pyongyang to stop its nuclear missile program is misguided and futile," Putin, who is due to attend a summit of the BRICS nations in China next week, wrote ahead of his trip.
"The region's problems should only be settled through a direct dialogue of all the parties concerned without any preconditions. Provocations, pressure and militarist and insulting rhetoric are a dead-end road," he noted.
Russia and China have created a roadmap for a settlement on the Korean Peninsula that is designed to promote the gradual easing of tensions and the creation of a mechanism for lasting peace and security, the Russian leader added.
The Russian-Chinese initiative of "double freezing," put forward by the Russian and Chinese foreign ministers on July 4, is designed to cease any missile launches and nuclear tests by Pyongyang, as well as large-scale military exercises by Washington and Seoul.
Last month, the UN Security Council unanimously agreed to impose more restrictive measures on Pyongyang, banning exports of coal, iron, lead, and seafood. The move came in response to North Korea's missile launches in July, which it, as well as South Korea and the US, claimed were intercontinental ballistic missile (ICBM) tests. Moscow has questioned the claim, arguing North Korea was testing intermediate range rockets.
China announced a full ban on imports of coal, iron, and seafood, among other goods from North Korea as of August 15, thus cutting key export revenues for Pyongyang.
Russian Foreign Minister Sergey Lavrov said on Friday that all conceivable and unimaginable sanctions against North Korea have already been imposed, to no avail.
"All possible sanctions aimed at preventing North Korea from using a map of external relations for the development of missile and nuclear programs banned by the [UN] Security Council, all conceivable and even unimaginable sanctions, which have little to do directly with these areas of DPRK's [the Democratic People's Republic of Korea] activities, have already been adopted by the Security Council. In addition, unilateral sanctions have been adopted, which we consider illegitimate," Lavrov said.
In a bid to ease tensions, Moscow will seek the resumption of six-party talks on the situation on the Korean Peninsula, the Russian Foreign Minister noted.
"We will still seek to resume these talks," he said, adding that "we know that Americans are talking with representatives of Pyongyang via some semi-secret, semi-official, semi-academic channel."
Moscow will be happy "if they agree on some de-escalation, so that all parties cool down, sit down at the negotiating table and start talking."
"We have a common goal – denuclearization of the Korean Peninsula, so that neither the North nor the South, the US and us [Russia] have nuclear weapons," Lavrov said.
You can share this story on social media: