Erdogan slams 'scandalous' indictment of guards over Washington brawl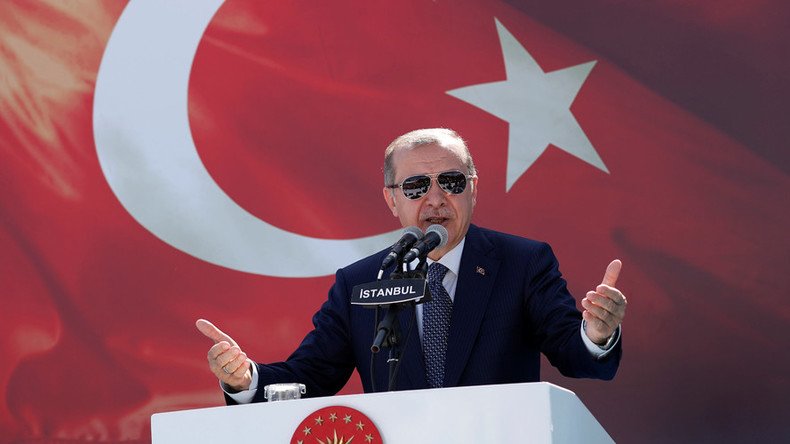 President Recep Tayyip Erdogan has criticized Washington's "scandalous" decision to indict Turkish security officials for attacking protesters during the leader's visit to the US in May.
"This is a complete scandal. It is a scandalous sign of how justice works in the United States," Erdogan said following prayers for the Muslim Eid al-Adha celebration on Friday, Reuters reports.
US authorities indicted 19 people, including 15 Turkish security officials, "on a charge of conspiracy to commit a crime of violence, with a bias crime enhancement," according to a District of Columbia Attorney's Office statement on Thursday.
The charge carries a maximum sentence of 15 years in prison. At least other five defendants face additional charges of assault with a deadly weapon.
It is not the first time the Turkish leader has hit out at decisions by the US authorities regarding his security personnel. In June, he condemned an arrest warrant for a dozen of his security guards and two others accused of taking part in a violent attack on protesters during the May visit to the US capital.
During Erdogan's official visit his guards were involved in violent skirmishes with demonstrators, with at least 12 people injured in a fight outside the Turkish ambassador's residence. Following the incident US police brought charges against those involved.
Video from that scene showed Erdogan's bodyguards hitting and kicking protesters as well as scuffling with local police and Diplomatic Security Service (DSS) personnel.
The incident provoked a diplomatic row. In June, the US House of Representatives passed a bill condemning the Turkish government over the incident. Ankara responded by criticizing Washington for "aggressive and unprofessional actions" by the police and diplomatic security service towards Erdogan's bodyguards.
READ MORE: Germany bars Erdogan's bodyguards charged in US brawl from Hamburg G20 summit – report
During preparations for the G20 summit in Hamburg in June, Germany asked the Turkish president not to take the bodyguards who were involved in the violence. The warning came as a response to a list of around 50 people expected to accompany Erdogan during his trip to the leaders' meeting.
You can share this story on social media: