Why the battle against ISIS in Iraq's Tal Afar is 'many times worse' than Mosul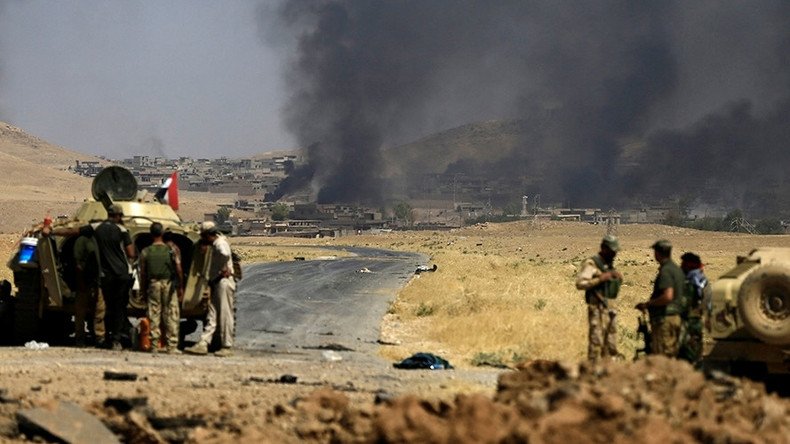 The Iraqi military is engaged in fierce fighting against Islamic State militants in the Tal Afar district, where terrorists have fled from the city itself and remain holed up in the town of al-Ayadiya. As the operation enters its final stage, RT looks at what is making it so difficult.
"The gates of hell" is what Iraqi Colonel Kareem al-Lami calls the battle now facing Iraqi troops near Tal Afar, according to Reuters.
US-backed Iraqi troops lauded the almost complete liberation of the strategic town of Tal Afar, held for three years by Islamic State (IS, formerly ISIS/ISIL), on August 27 after a week-long operation. However, the forces are currently struggling to defeat the terrorists in the small town of al-Ayadiya a few miles north of Tal Afar, where the remaining militants continue to resist.
This last step towards the liberation of the district is even tougher than the battle for Mosul, located some 60km to the east, Colonel al-Lami says. That operation took eight months and was finished in June.
"We thought the battle for Mosul's Old City was tough, but this one proved to be multiple times worst," al-Lami told Reuters on Wednesday.
Diehard militants with nothing to lose
Hundreds of militants are reportedly holding the ground in al-Ayadiya. Their exact numbers remain unclear, and they are apparently some of the toughest fighters that IS has.
"Our intelligence shows that the most diehard Daesh [IS] fighters fled Tal Afar to al-Ayadiya," Lieutenant Colonel Salah Kareem said, as cited by Reuters. "We are facing tough fighters who have nothing to lose and are ready to die."
Those terrorists who don't stand and fight attempt to flee the battle zone by hiding among displaced civilians on the run. At least 200 militants were found during security checks of 2,000 refugees, Iraqi news reports, citing the Kurdish Peshmerga, which is also fighting against IS in the area. Kurdish forces also killed 130 more militants on the way to Syria, Iraqi news reported on Tuesday.
Ruins filled with explosives
During their retreat from the city, IS terrorists left behind deadly traps that have turned Tal Afar "into a sappers' nightmare" as explosives could be hidden anywhere, RT correspondent Murad Gazdiev reported from the ground.
The Iraqi military told RT it had found such 'surprises' in the most unexpected places. Troops continue to find wires everywhere and dare not touch anything.
"One of our officers went into a house and sat on a sofa. It exploded, along with half of the house," an Iraqi commander said. "They booby-trapped the sofa."
"Another example: there were explosives in the light switches. If you turn the light on, it explodes. There were bombs in refrigerators and even in door handles."
Some houses packed with explosives will have to be destroyed while the military does its best to clear the area. Meanwhile, many houses have already been reduced to rubble and there are no civilians in the suburbs of the city, where an RT crew was allowed to enter.
Civilians caught in the crossfire, used as human shields
At the beginning of the battle for Tal Afar around 40,000 civilians remained trapped in the city and its neighboring areas, according to the Norwegian Refugee Council (NRC), which is providing aid there. The US-led coalition estimated that between 10,000 and 50,000 civilians remained in and around Tal Afar as of August 20.
Thousands of people, trapped in a warzone, faced a grim choice.
"Being used as human shields by ISIS, risk being killed in a coalition airstrike or make a run for it, brave the crossfire, the desert and the merciless heat in the hope that you get out," RT correspondent Gazdiev reported from the area.
Their plight was highlighted by the UN.
"Iraqi civilians are likely to be held as human shields again and that attempts to flee could result in executions or shootings,"said Andrej Mahecic, spokesperson for the Office of the UN High Commissioner for Refugees (UNHCR).
To have a hope of escaping Tal Afar, civilians had to move at night not to be caught by IS terrorists. The terrorists took men from the families trying to flee, according to Oxfam, which spoke to the civilians at a screening site in Badush, around 60km east of the city.
The journey, in scorching heat and in constant fear of airstrikes, was a horror in itself.
"The road was steep and rocky, and old people were dying. It was so hard to walk and the road smelled of dead bodies. I lost my voice because I was shouting at my children to stay with me. They were so scared," Ahlam Ibrahim, who fled the village of Mzra'a near Tal Afar, said, as cited by Oxfam.
"We saw a lot of people killed; that's why we were so afraid. We are worried they will kill my husband. My son won't stop crying because ISIS took his father and we don't know where he is," a woman from Mzra'a said.
Under-supplied camps & refugees with nowhere to go
Over 30,000 people have fled the Tal Afar area since April, 14,000 of them since the start of the military operation there, according to the NRC. Those who have managed to flee are waiting for it to be safe to return home, but some fear that there is nothing to return to.
"We can't go back unless the government allows us to – a lot of homes are booby-trapped and there are IED [improvised explosive devices] and mines everywhere," the NRC cited Mehmoud Mustafa, a refugee from Tal Afar, as saying.
"There are almost no services where we come from, and no food and water and things that we need to get by," Sami from Tal Afar told the organization.
"We also need to be allowed to return to our homes by the government and military forces. So we will go back when I have enough money and something to go back to. Now we have nothing left of our properties," he added.
Meanwhile, displaced people trapped in refugee camps suffer from a lack of water, food, electricity, medicine and medical assistance. People in the Umm al-Jarabeeh camp told RT's video agency Ruptly they are desperate to escape the dire conditions and return to their homes.
"There is no electricity, the floor is soil and the roof is nylon, as if we are pickles in a bag," one resident, Ahmed Ali, told Ruptly last week.
"There are [water] tanks which come here but they distribute only four tanks of 20 liters for 11 people. What can we do with this amount of water? Shall we drink it or use it for washing? Or shall we use it for cooking? It is not enough for the family," he said, adding that the water the refugees get is contaminated.
People at another camp, the 'Western Axis Camp,' located west of Tal Afar, which accommodates more than 1,500 families, also said that the facility lacks the necessary supplies while the authorities care little about them.
"We are hungry. We need bread, aid. We need clothes, water. Yesterday we got contaminated water, even animals won't drink it. We are living in tough times. No authorities are checking how we are doing. No mercy. We need a solution. We are in such a bad state. Everything is scarce. Even bread," said Tal Afar refugee Ghaz Ghashman Hassan.
Another refugee, Abu Abdallah, called on the authorities to deal with the shortage of medicines.
"The nearest access would be 100km away, and doctors there may or may not come," he added.
Some said that they would prefer to go back to their ruined homes than sit with no aid in the heat.
"We urge the Iraqi government to liberate Tal Afar so that we can return to our villages and homes. Our children are disabled, it is hot, we sit here with no aid," Azeez Omar Mohamed told Ruptly.
The rebuilding cannot even start yet, and when it does, it will take years.
"It will take a long time and a lot of resources to rebuild the cities, towns and villages that have been damaged and destroyed by this conflict. People cannot even begin this process unless they are safe. Once they are, people must be free to move when and where they choose so they can start the journey of rebuilding,"NRC country director Heidi Diedrich said.
You can share this story on social media: