'Arranged marriage' board game dedicated to 'women stuck with abusive husbands'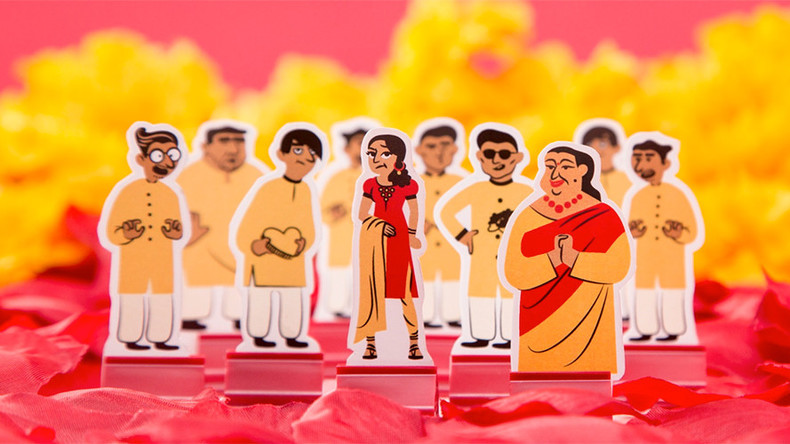 A Pakistani designer has created a board game to shed light on how young people are often pressured into arranged marriages. Nashra Balagamwala was inspired to create 'Arranged!' by her own life experience.
"I'm doing this for all the women out there in abusive and loveless marriages," she explained. "For the women who were forced into marrying a man twice their age."
Arranged! follows three women as they attempt to avoid an arranged marriage. The aim is to dodge Rishta Aunty, the matchmaker. This can be achieved by talking about wanting to pursue a career, gaining weight or even blackmailing the aunty. All the while Rishta tries to find out things such as whether the girls can cook or if they have child-bearing hips.
"I think the first step to fixing any problem is to acknowledge that there is a problem to begin with, and to have a conversation about it," Balagamwala wrote.
"Arranged! masks the darkness of this topic, and provides a platform for people to be able to discuss these issues in a very lighthearted setting," she said.
Balagamwala has just returned from living in New York where she worked for board game corporation Hasbro. She came up with the idea after making a list of everything she had done to avoid an arranged marriage.
"Wearing fake engagement rings, getting a tan or being seen with male friends in public, [these are] the things I had done to avoid an arranged marriage myself," she told Mashable.
Balagamwala created a Kickstarter campaign to raise funds for the game. It surpassed its $6,000 goal, raising over $13,000. The board game was manufactured in Pakistan and is being sold online for $30.