US-led coalition exchanged fire with rebels in Syria – spokesman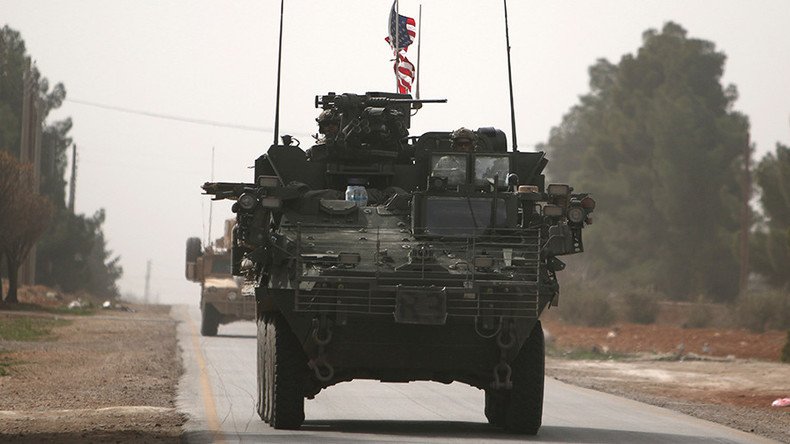 US-led coalition forces in Syria have returned fire after being shot at by Turkey-backed rebels near the northern city of Manbij. With the incidents being probed, the coalition says any action by partner forces threatening the lives of its personnel is "not acceptable."
"Our forces did receive fire and return fire and then moved to a secure location," coalition spokesman Colonel Ryan Dillon told Reuters by phone. He added the coalition asked Turkey to tell the rebels it supports in the area that firing on US-led coalition forces "is not acceptable."
"We are engaged with Ankara and other parties to address these incidents. Any actions by partner forces in Syria that endanger the lives of Coalition personnel are unacceptable," the press office of the Joint Task Force – Operation Inherent Resolve (CJTF-OIR) told RT.
The CJTF-OIR also confirmed there were "multiple occasions in the last two weeks" when coalition forces "received small arms fire from unknown groups."
"These incidents have occurred in territories primarily under the control of Turkish-backed fighters. On one occasion, coalition troops returned fire and moved to protected positions to de-escalate the situation," it said, adding there were no casualties or damage to equipment.
Coalition troops "will continue performing patrols within the Manbij Military Council area of control and maintain the right to defend themselves against any threat," the CJTF-OIR added.
"The Coalition urges all parties to remain focused on defeating ISIS. Operations that distract from this focus are counter-productive to the collective efforts of the 73 nation and partner organization coalition," it said further.
The US-led coalition, consisting of more than 60 states, began conducting airstrikes against IS in Syria and Iraq in 2014, despite not having authorization from either the Syrian government or the UN Security Council.
The coalition is not supporting four de-escalation zones which were agreed upon at talks in Astana, Kazakhstan, in May. The proposal was, however, signed by Russia, Iran, and Turkey, with the approval of the Syrian government. The UN has welcomed the initiative.
Meanwhile, Russia has been fighting its own battle against terrorists in Syria, supporting the Syrian Army in its recent successful offensive in the Ghanem Ali area. IS fighters are now moving tanks into the area in a desperate attempt to cling to their positions, while the Russian Air Force continues to conduct airstrikes against extremists in the area.
You can share this story on social media: