'Liar, liar': Merkel heckled by anti-refugee crowd at election rally (VIDEO, PHOTO)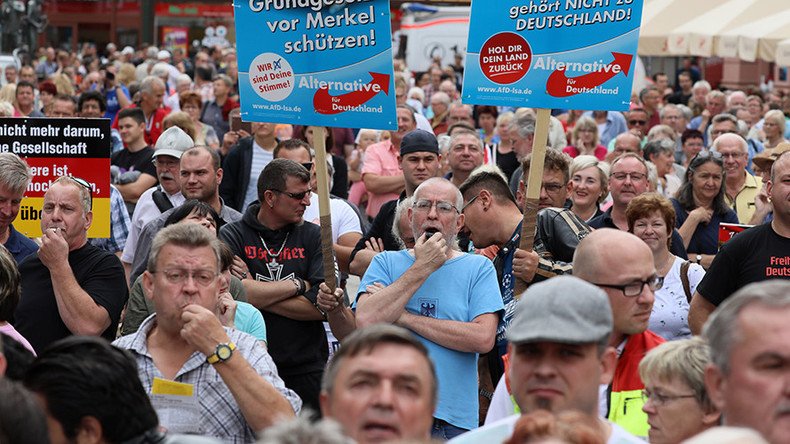 German Chancellor Angela Merkel was confronted by whistling and screaming protesters during a campaign speech for the second time in a little more than a week. The defiant chancellor told the anti-refugee hecklers Berlin still welcomes asylum-seekers.
Merkel, who is seeking a fourth term as the leader of Germany in the September 24 election, spoke on Saturday to a crowd of 1,500 to 3,000 people in Quedlinburg, a town in Saxony-Anhalt, where she faced angry protesters who yelled and whistled at her during the 30-minute speech.
The demonstrators, who chanted "liar, liar" and "Merkel must go," with equally critical banners, some with the logo of right-wing party Alternative for Germany (AfD), said the chancellor's refugee policy has failed.
Since 2015, when Merkel introduced the 'open door' policy, around a million asylum-seekers have arrived in Germany, putting a strain on its social welfare system and sparking a rise in anti-migrant sentiment. AfD has tried to capitalize on the crisis and may win as many as 10 percent of the seats in the upcoming election, according to opinion polls.
Merkel, whose conservative Christian Democrats are slated to win, defied the hecklers, saying that shouting would not solve Germany's problems.
"Some believe the problems in Germany can be fixed by screaming. But I don't think so and the majority of the people here don't think so either," she said. "Some people can't do anything else but scream and shout – but we're not going to let them lead us astray."
She said Germany would still welcome refugees, but conceded that the crisis of 2015 should not be allowed to repeat and pledged to fight the causes of the mass movement of people from the Middle East and Northern Africa.
She also addressed domestic issues, like the ongoing scandal over falsification of test results by German diesel car makers, and improving life in the rural areas of the country.
The previous election rally in Annaberg-Buchholz, Merkel's first in former communist eastern Germany, saw hostile attitudes too. At the event on Thursday last week, protesters held banners calling her a 'traitor' and saying that she is "not my chancellor."
Merkel's next scheduled campaign stop is Bitterfeld-Wolfen, located in the same state, where she will attend a rally on Tuesday.
You can share this story on social media: