Moscow 'preparing inevitable response' as US hits Russians with new sanctions over N. Korea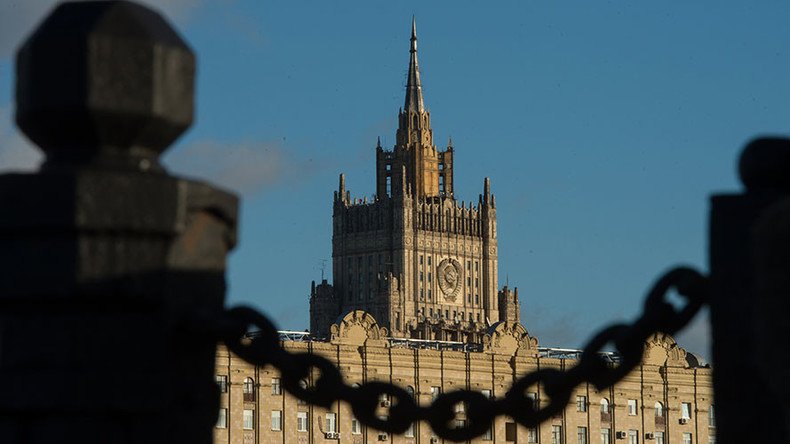 Moscow has fired back at the latest round of US sanctions targeting Russian interests, as Washington blacklisted one Russian company and four individuals for their alleged dealings with North Korea.
On Tuesday, the US Treasury revealed it had imposed sanctions on 16 Russian and Chinese nationals and companies for their alleged dealings with North Korea. The Treasury claims the sanctions are in line with the internationally agreed measures against North Korea's missile and nuclear weapons programs. The companies are accused of working with blacklisted individuals, helping develop the North Korean energy sector, help it place workers abroad or move money from abroad. As a result, their US assets are frozen and Americans are forbidden from doing business with them.
"It is unacceptable for individuals and companies in China, Russia, and elsewhere to enable North Korea to generate income used to develop weapons of mass destruction and destabilize the region," Treasury Secretary Steven Mnuchin said in a statement.
"We are taking actions consistent with UN sanctions to show that there are consequences for defying sanctions and providing support to North Korea, and to deter this activity in the future."
Reacting to the sanctions, Russian Deputy Foreign Minister Sergey Ryabkov issued a statement expressing disappointment, and warning Washington that Russia was working on a response.
"Against such a depressing backdrop, the lip service from American representatives about the desire to stabilize bilateral relations is extremely unconvincing," Ryabkov said. "We have always and will always support resolving our existing differences through dialogue. In recent years, Washington in theory should have learned that for us the language of sanctions is unacceptable, and the solutions to real problems are only hindered by such actions. So far, however, there doesn't seem to be an understanding of such obvious truths.
READ MORE: US embassy in Russia temporarily halts issue of non-immigrant visas
"Nevertheless, we do not lose our hope that the voice of reason will sooner or later prevail, and that our American colleagues will be aware of the futility and detrimental nature of further sliding down the spiral of sanctions.
"In the meantime, we are beginning to work out the inevitable response to this situation."
The companies under sanction include Gefest-M, a Moscow-based firm accused of acquiring metals for a North Korean company, and Mingzheng International Trading, a Chinese and Hong Kong-based bank that supposedly conducted transactions on behalf of North Korea.
Andrey Klimov, a senior Russian senator, said that the US sanctions against Gefest-M and the others lack legitimacy.
"These sanctions are illegal in themselves, because the only thing recognized by international law is the sanctions of the UN Security Council," Klimov told Interfax. "We must react in principle to this insane and confrontational policy. The toolbox is rich, let's hope that we will act consistently, reasonably, professionally and effectively."
Klimov's words were echoed by the Chinese government, with a spokesperson saying Beijing "opposes unilateral sanctions out[side] of the UN Security Council framework."
"We strongly urge the US to immediately correct its mistake, so as not to impact bilateral cooperation on relevant issues," the spokesperson said, as quoted by the Financial Times.
At the same time, the US Department of Justice also filed two complaints to forfeit over $11 million from two Asian companies for allegedly laundering funds for North Korea.
The DoJ alleges that the two companies violated the international sanctions against North Korea and indirectly supporting its missile and nuclear weapons programs.
"The United States filed two complaints today seeking imposition of a civil money laundering penalty and to civilly forfeit more than $11 million from companies that allegedly acted as financial facilitators for North Korea," read the statement.
Proceedings have been launched against Velmur Management Pte Ltd., based in Singapore, as well as the Chinese company Dandong Chengtai Trading Co. Ltd.
You can share this story on social media: