UN 'deeply concerned' about US-led Raqqa airstrikes that reportedly killed dozens of civilians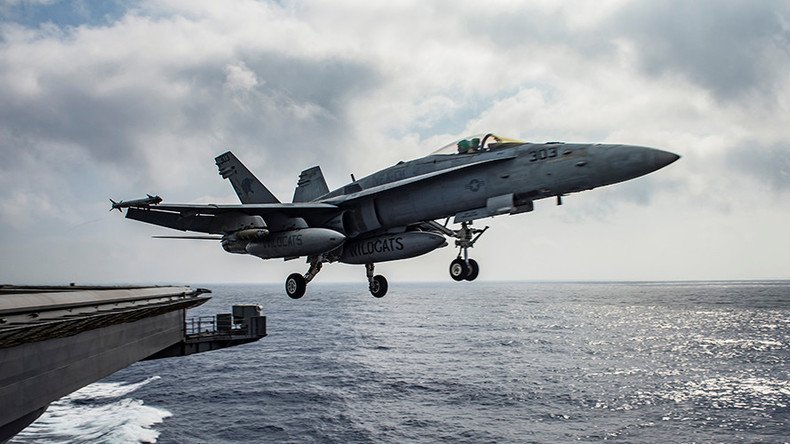 The UN has expressed "deep concerns" over the mounting number of civilian casualties in Raqqa inflicted by US-led coalition airstrikes, condemning "any attack directed against civilians or civilian infrastructure."
"Our humanitarian colleagues tell us they are deeply concerned by unconfirmed reports of a high number of civilians killed by airstrike in Raqqa city over the last 24 hours," Stéphane Dujarric, the spokesman for the UN Secretary-General, told reporters at a daily briefing Tuesday.
"In recent days and weeks scores of civilians have reportedly been killed and injured in Raqqa due to airstrikes and shelling and up to 25 thousand people remain trapped in the city," Dujarric said.
At least 78 civilians have died in the al-Sakhani and al-Bado streets and al-Tawasuaeh neighborhood in Raqqa city as a result of the US-led coalition airstrikes over the past 24 hours, Syrian news agency SANA reported earlier Tuesday, citing local and media sources.
"The UN condemns any attack that is directed against civilians or civilian infrastructure. We urge all parties fighting in Raqqa and across Syria to take every possible measure to spare and protect civilians and civilian infrastructure as in line with obligations under international humanitarian law."
READ MORE: 'Role of US in Syria unnecessary, they should withdraw as soon as possible'
"Yesterday unconfirmed reports indicate that over 30 people were reportedly killed in the Al-Sakhani neighborhood, while eight internally displaced people from the same family were killed in a separate attack in another part of the city. These attacks, if confirmed, are a shocking reminder that civilians continue to bear the brunt of the conflict in many parts of Syria."
Reports of civilian casualties have been mounting as the mostly Kurdish Syrian Democratic Forces (SDF), backed by the US-led coalition, strive to capture the city of Raqqa from Islamic State (IS, formerly ISIS/ISIL). The battle has been raging for three months, but the SDF has so far been unable to capture the city.
The most battle-capable IS units have been withdrawn from Raqqa in preparation for the final battle for the besieged city of Deir ez-Zor, according to the Russian MoD.
"The remaining [terrorist] forces are heading there. According to our data, militants from Mosul [in Iraq] moved there, as well as the most battle-ready units from Raqqa," General Sergey Rudskoy, spokesman for the Russian General Staff said Monday.
READ MORE: ISIS terrorists pulling strongest units to Deir ez-Zor for last stand – Russian MoD
Military analyst Kamal Alam said that while the reports of large civilian casualties indicate a lack of intelligence and communication with other parties in the Syrian conflict, the US-led coalition is unlikely to acknowledge them, producing its usual excuses instead.
"So far, if we go by the last 12 months' history the outcome was the standard explanation saying that 'they will investigate' and 'this [is] tragic.' Often they blamed the parties on the ground for the attack rather than themselves," Alam told RT.
"And I think this basically shows that they need to work very closely with Russians and the Syrian government to coordinate airstrikes, because as we speak the Americans don't have real-time intelligence coming out of Raqqa, they don't have reliable partners on the ground and that leads to the innocent people dying … not just in Raqqa but all over Syria."
You can share this story on social media: