Aussie university professor forced to apologize for 'inaccurate' China-India border map
Published time: 22 Aug, 2017 01:08
Edited time: 22 Aug, 2017 19:54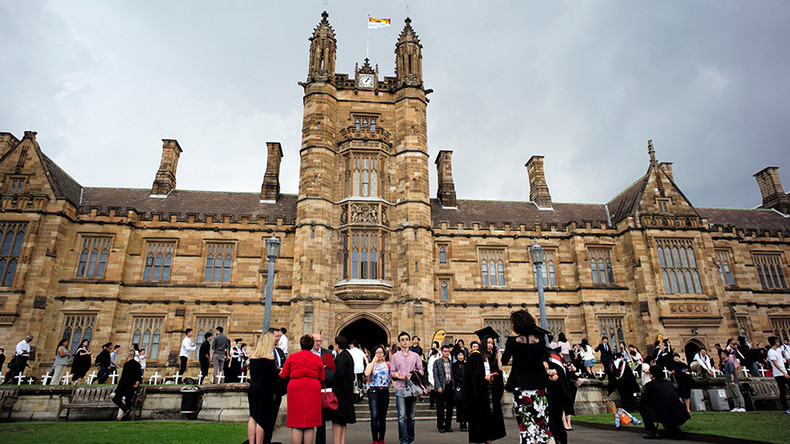 The lingering Sino-Indian border spat spilled over into Sydney University campus, where outraged Chinese students made an IT lecturer apologize over the use of an outdated map listing a contested border area as part of India's territory.
A world map used by Khimji Vaghjiani, an associate professor at the University of Sydney reading the course called "Professional Practice of IT," showed a disputed strip of land as part of India, according to The Australian.
Though the disputed area was not easy to spot on the map, the perceived inaccuracy apparently touched Chinese students on the raw.
Australian Red Scarf, a Wechat account run by Sydney University's Chinese students group, posted an article last Wednesday demanding that the map be removed, the South China Morning Post (SCMP) reported.
"This map is different from [the] Chinese map ... India should respect the facts," it said. "Is this Indian teacher trying to provoke a conflict?" the piece asked.
Bashed by some Chinese social media users, Vaghjiani brought formal apologies and said the map he downloaded from the Internet was "a genuine mistake."
"Over 18 months ago, I used an out-of-date map, downloaded from the internet, when discussing characteristics of IT entrepreneurs around the world, however I was unaware that the map was inaccurate and out-of-date," he explained in a statement to The Australian.
The teacher then said he regretted "any offence this may have caused." The map was not included in the course materials, Vaghjiani added.
"The course introduces students to concepts, standards and techniques associated with professional practice in information technology in business environments. The current learning materials for this course (Semester 2, 2017) are up-to-date and do not contain this map."
READ MORE: Stones, rods & fists: Chinese & Indian troops' border brawl caught on VIDEO
Australia's Chinese community has recently added more fuel into the China-India rift. In mid-August, a cavalcade of 10 luxury cars paraded across Sydney, driving past three major universities before arriving at India's Consulate General in Sydney.
The cars were decorated with the Chinese flag and stickers featuring slogans that read: "Borderline is our baseline;" "China: Not even a bit can be left behind;" and, "Anyone who offends China will be killed, no matter how far the target is," according to SBS.
The story comes at a time when two Asian powers are challenging each other in a bitter political dispute over Doklam plateau (Dongland in Chinese), a tiny swatch of land sandwiched between India, China and Bhutan.
Tensions between Beijing and New Delhi escalated in June this year when the Chinese started building a road on the plateau. Bhutan requested help from India, which amassed troops on the border, according to Beijing's claims. In turn, China conducted a number of military drills in Tibet, not far from the contested area.
Despite the recent flare-up in tension, both countries' actions have so far been limited to a heated war of words. In late July, Chinese Defense Ministry spokesman Senior Colonel Wu Qian urged Indians not to "push your luck and cling to any fantasies." He added in a statement "it is easier to shake a mountain than to shake the [People's Liberation Army]."
In August, Indian and Chinese defense experts passionately engaged each other in a heated TV debate. Speaking on a news show run by China Global Television Network (CGTN), Ashok Mehta, a retired army general, accused Chinese media of fanning an anti-Indian hysteria and "taking India to war."
His counterpart, director of the Chinese Defense Ministry's Center for International Security Cooperation Senior Colonel Zhou Bo, then fired off a blunt threat, saying India should leave Doklam or face a conflict. "Let me just use a few seconds – you [Indian troops] are on Chinese territory, so if you do not want a war, you've got to go away from Chinese territory," the senior colonel said.
While India maintains Doklam belongs to the kingdom of Bhutan, China argues it was under Beijing's jurisdiction for several centuries.