Spanish hero cop confronts & kills 4 terrorists covering injured partner (GRAPHIC VIDEO)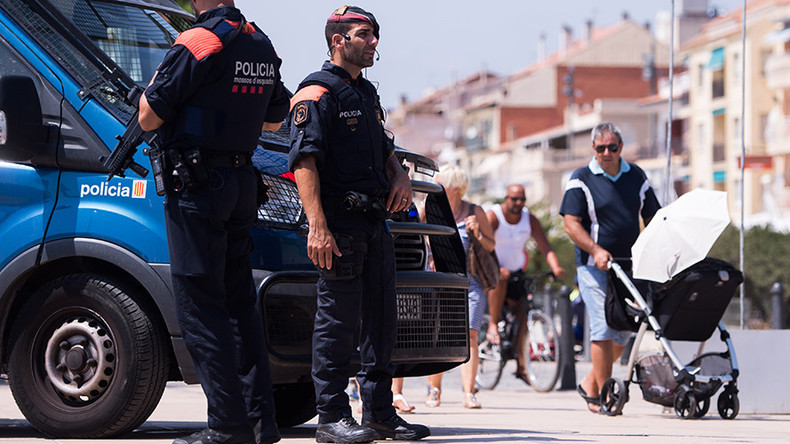 A Spanish officer reportedly singlehandedly confronted and shot dead four terrorists involved in the vehicle ramming attack which saw 1 person killed and five others injured in the Catalan town of Cambrils.
The attack in Cambrils came shortly after a man plowed a van through a crowd in the Catalan capital Barcelona Thursday, killing 13 people and injuring over 100 others.
In a similar operation, an Audi A3 vehicle with five perpetrators inside drove along the beach promenade in Cambrils, hitting four people. The car then crashed into a police cruiser on an intersection and overturned, the La Vanguardia paper reported.
The terrorists got out of the vehicle and attempted to stab pedestrians with knives and an axe. They were wearing items resembling suicide vests which turned out to be fake.
Two officers were inside the police car. One of them suffered head and leg injuries in the crash and his partner was forced to confront the attackers on his own.
He shot and killed four of them.
Graphic footage of the confrontation, obtained by La Vanguardia, captured the moment one of the terrorists was being gunned down by the officer with several onlookers watching on in shock.
Read more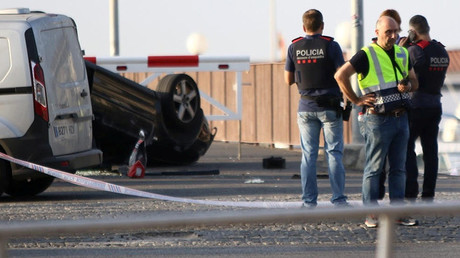 The perpetrator is seen taunting the officer, shouting: "Allahu akbar," and ignoring commands to surrender and lay down. After the first shots were fired at him, the suspect falls to the ground, but quickly stands up and continues running until more bullets hit him.
The name of the policeman who killed the four terrorists remains undisclosed. La Vanguardia reports that psychologists counseled him after the incident.
The fifth attacker managed to flee while injuring a woman who later died in hospital. He was shot dead by another police unit shortly afterwards.
Police identified all 5 terrorist cell members killed in Cambrils, but are still unsure if one of them was the driver of the van involved in the Barcelona ramming earlier.
Three Moroccans and one Spaniard have been detained in relation to the Catalonia vehicle ramming attacks. Police said the cell of at least 12 members were preparing a bigger bombing attack. Out of 3 remaining identified suspects, two might have been killed in the blast in Alcanar, and at least one – Younes Abouyaaqoub, 22 – is still at large.