Big city war: NATO seeks concepts for waging urban conflict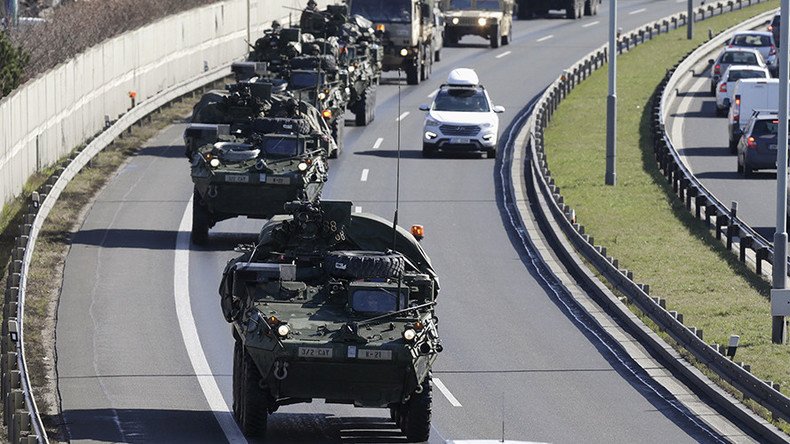 NATO is asking outside contractors to pitch concepts on military operations in urban areas, admitting that the bloc's forces are still unprepared for waging wars in big cities, including those lying close to the coast.
The request, titled 'Development of NATO Military Operations in Urban Environment Concept', cites UN estimates which say that by 2035 the world's population will reach 8.7 billion people, with most living in urban areas.
"The world as a whole passed the 50-percent urban mark seven years ago," says the unclassified document published on FedBizOpps, a website where US federal contracts can be viewed.

"Studies, based upon global demographic trends, suggest that an increasing percentage of armed conflicts will likely be fought in urban surroundings."
Some 5 billion people currently live in cities, and 1.4 million people worldwide migrate to cities each week, the file notes, adding that the bloc is not ready to wage hostilities in dense, overcrowded communities.
NATO is not sufficiently organized, trained, or equipped to deploy troops "across the maritime, cyberspace, land, air, space dimensions/domains" to create "desired effects in an emergent complex, urban littoral system possessing a dense, interconnected population," the bloc says.
The document, which often reverts to opaque formal language, does not clarify what the "desired effects" would look like for an adversary, but sheds some light on the requirements the concept must meet.
"The intent now is to develop an overarching NATO Concept to increase the situational awareness, explore the potential threats to military and civilian personnel … and to assess the potential impacts of autonomy on current operational concepts," it explains.
NATO expects to have the first draft of the concept by the end of 2017, verifying it during "an experiment type doctrine." US-based Supreme Headquarters Allied Command Transformation (HQ SACT) will oversee the whole project.
The chosen company will be offered a firm fixed-price contract lasting until December 2017, with an optional period running from January until October 2018.
SACT has imposed strict security requirements for the prospective contactor. "[The] contractor should have a minimum of secret clearance (as issued by NATO or the respective national Ministry/Department of Defence (MoD/DoD)," it says. People taking part in the project will also have to abide by "security restrictions regarding carrying and using electronic devices (e.g., laptops, cell phones) in the HQ SACT."
Though NATO admits unpreparedness for wars in big cities, it is no stranger to urban wars. During the 1999 bombing of Yugoslavia, NATO targeted major cities including the capital, Belgrade. The air campaign killed around 500 civilians, according to a report by Human Rights Watch.
Urban warfare also appears to have become an issue with NATO strategists in Eastern Europe, close to Russia's borders. Last November, almost 4,000 troops from the US, the UK, Germany, Canada, Poland, Romania, Slovenia, Luxembourg and the three Baltic states took part in the massive Iron Sword exercise that involved military action in urban environments.
You can share this story on social media: