Right-wing Aussie senator wears burqa in parliament calling for ban (VIDEO)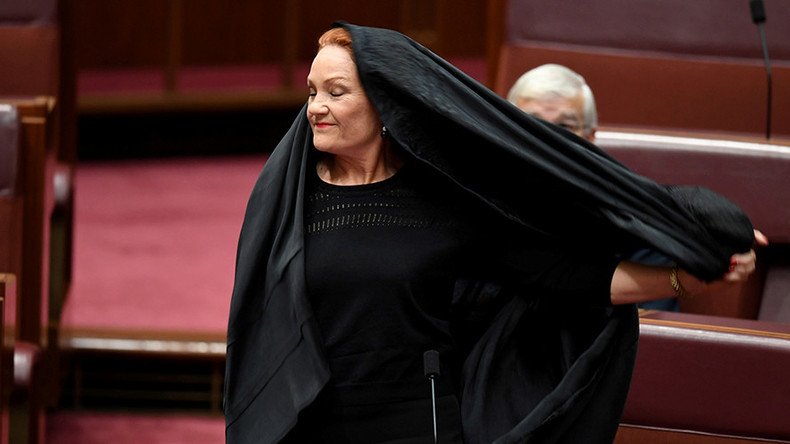 A right-wing Australian politician has caused uproar on social media after entering the senate chamber wearing a burqa, calling for a ban on the Muslim full-faced veil which she calls "oppressive." She was immediately chided by the government representative.
Pauline Hanson, the leader of One Nation right-wing political party, was dressed in the Islamic garment during Question Time in the Senate, the upper house of the Australian parliament, on Thursday.
She then emotionally took the Muslim veil off, asking Attorney-General George Brandis, the leader of the government in the Senate (acting as its main spokesperson there), to support a nationwide ban on the burqa.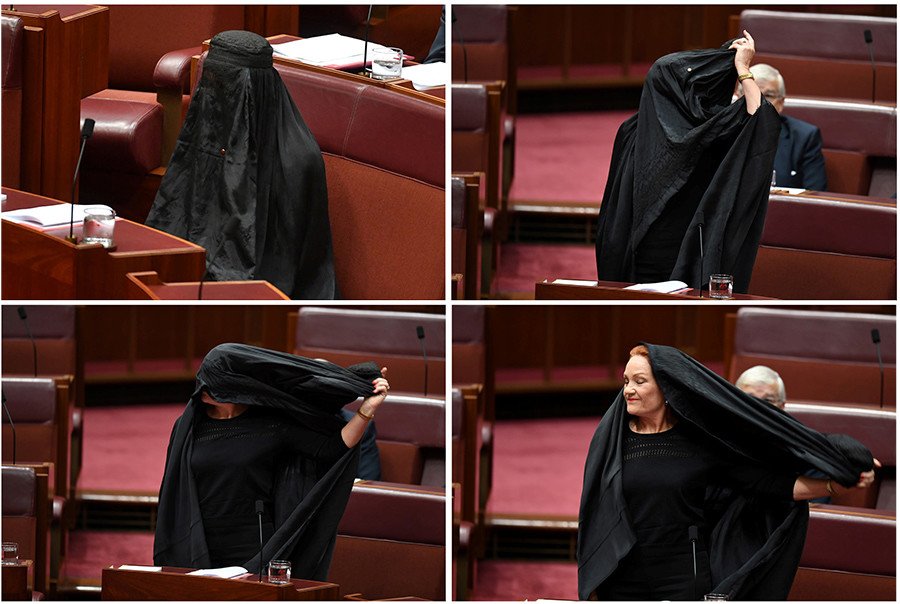 "In light of the national security of this nation will you work to ban the burqa in Australia?" she asked, as cited by the Australian.
Brandis, however, didn't share Hanson's enthusiasm and criticized her stunt.
"I'm not going to pretend to ignore the stunt that you have tried to pull today by arriving in the chamber dressed in burqa when we all know you are not an adherent to the Islamic faith. I caution you …to be very, very careful of the offence you may give to the religious sensibilities of other Australians," he said, addressing the controversial Hanson.
Brandis ruled out burqa ban to applause from many senators.
Hanson's One Nation party released a statement, saying that by such a move Hanson called "to ban full-face coverings in public."
The measure is "an important issue facing modern Australia that needed to be discussed," it added.
People on social media were divided over the proposed burqa ban and Hanson's behavior. Some supported the One Nation initiative, saying that the garment is against Australian culture.
"It's against our culture. So why come here if they won't integrate....halt immigration," one person wrote.
Others demanded Hanson be banned from senate sessions.
can she be banned for Parliament for a year?

— Anna_63 (@Anna_63) August 17, 2017
Some pointed out that such moves are offensive and could provoke racism.
Can we stop making light & joking about Pauline Hanson's Burqua stunt, it's not funny and it normalizes gross racist actions

— June/Ruby (@rubyxcubegames) August 17, 2017
An open tweet to #PaulineHanson

Go away, you reprehensible creature. You really are offensive on the most base level!

— Olemateme (@geoff_setty) August 17, 2017
I think Pauline Hanson is the bigger Nazi?

— ((GET trump OUT))❄Ω (@DerekHannity) August 17, 2017
Others slammed the row in the senate, calling it a children's play.
My god. You people are children. We have full on retards and children running this country.

— HWYplanetarium (@HWYplanetarium) August 17, 2017
The burqa episode in the Australian senate created a handful of speculations, jokes and memes on social media.
Some suggested what other stunts Hanson may present during the next Senate Question Time.
Now if we can just see him get all emotional like that.🙄🙄🙄
when he actually starts to address the homeless🤔
Next Pauline should bring a Swag

— Sgt__Shultz (@Sgt__Shultz) August 17, 2017
What is more frightening? Seeing the burqa in Parliament or finding out Pauline Hanson is underneath? #auspol

— Melanie Griffiths (@melanieg51) August 17, 2017
I genuinely think Pauline Hanson wearing the burqa in Parliament is very funny

— Curtis E. Bear (@nickaargento14) August 17, 2017
You can share this story on social media: