US trade probe: China vows not to 'sit by' if Washington 'destroys multilateral rules'
China has expressed "grave concerns" over US President Donald Trump's signing of a memo that authorizes a potential inquiry into Beijing's alleged theft of intellectual property. China said it won't "sit by," and threatened to act to defend its interests.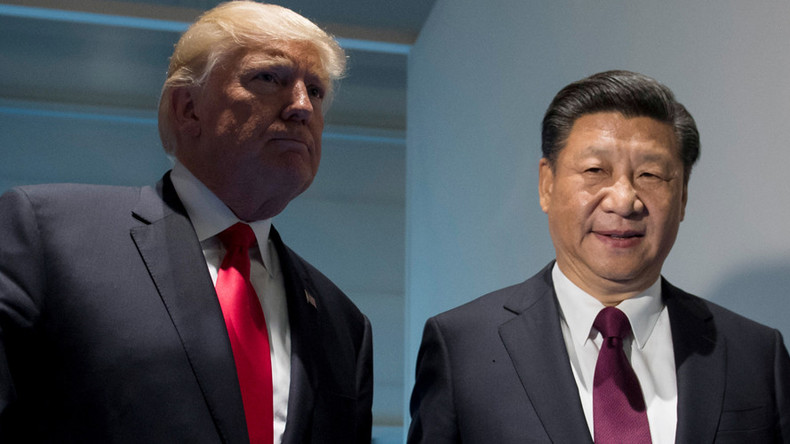 "We hope that the US trade representative respects facts and acts with prudence," the Chinese Ministry of Commerce said in a statement on its website.
It added that if Washington fails to respect multilateral trade rules and chooses to take measures that damage bilateral economic and trade relations, "China will definitely not sit by, but take all appropriate measures to resolutely safeguard its legitimate rights and interests," the state-run Xinhua news agency reported.
Trump administration officials have estimated that alleged theft of intellectual property by China, America's largest trading partner, could amount to $600 billion, Reuters reported.
On Monday, the US president asked trade officials to consider launching a formal investigation into whether Beijing improperly requires foreign companies to hand over technology in exchange for market access. Trump signed an executive memorandum authorizing Robert Lighthizer, his trade representative, to "consider all available options" to challenge China's alleged trade abuses.
"This is just the beginning, I want to tell you that. This is just the beginning," Trump told reporters, adding that he was making "a very big move" against Chinese trade policies.
"We will uphold our values, we will defend our workers and we will protect the innovations, creations and inventions that power our magnificent country," Trump said.
The Chinese Ministry of Commerce said the move not only violated the spirit of international trade, but also undermined US commitments to the World Trade Organization (WTO).
"If the US side disregards the fact it does not respect multilateral trade rules and takes action to damage the economic and trade relations between the two sides, then the Chinese side will never sit back and will take all appropriate measures to resolutely safeguard the legitimate rights and interests of the Chinese side," the Ministry of Commerce said in a statement.
"We believe the US side should strictly adhere to commitments and should not become the destroyer of multilateral rules," it added.
Beijing requires carmakers and other foreign companies to work through joint ventures in China, most of them state-owned partners. More than 20 percent of the 100 American companies that responded to a survey by the US-China Business Council said they were asked to transfer technology within the past three years as a condition of market access, the group's vice president for China operations, Jake Parker, told AP.
"We don't believe market access should be contingent on transferring technology," Parker said.
"It goes counter to China's WTO commitments," he added.
It is believed that the investigation could sour Washington's relations with Beijing at a time when Trump is trying to make China put more pressure on Pyongyang to give up its nuclear program.
China has said the issues of trade with Washington should not be linked to the North Korea issue, warning that property abuse allegations will only make things worse.

"Given Trump's transactional approach to foreign affairs, it is impossible to look at the matter without taking into account his increasing disappointment at what he deems as China's failure to bring into line the Democratic People's Republic of Korea. His idea of exploiting trade as a bargaining chip in dealings with China dates back to the campaign trail," an editorial in the official China Daily newspaper said.
"Instead of advancing the United States' interests, politicizing trade will only acerbate the country's economic woes, and poison the overall China-US relationship," it warned.
"By trying to incriminate Beijing as an accomplice in the DPRK's nuclear adventure and blame it for a failure that is essentially a failure of all stakeholders, Trump risks making the serious mistake of splitting up the international coalition that is the means to resolve the issue peacefully," the article concluded.
Ken Jarrett, president of the American Chamber of Commerce in Shanghai, said that trade and North Korea should not be linked, adding that an investigation was, however, a "measured and necessary step."
"The president's executive order reflects building frustration with Chinese trade and market entry policies, particularly those that pressure American companies to part with technologies and intellectual property in exchange for market access," he said in a statement on Tuesday, as cited by Reuters.
"Chinese companies operating in the United States do not face this pressure."


You can share this story on social media: