Over 70 children die in Indian hospital tragedy, unpaid oxygen supply bill blamed
Published time: 13 Aug, 2017 15:41
Edited time: 14 Aug, 2017 06:40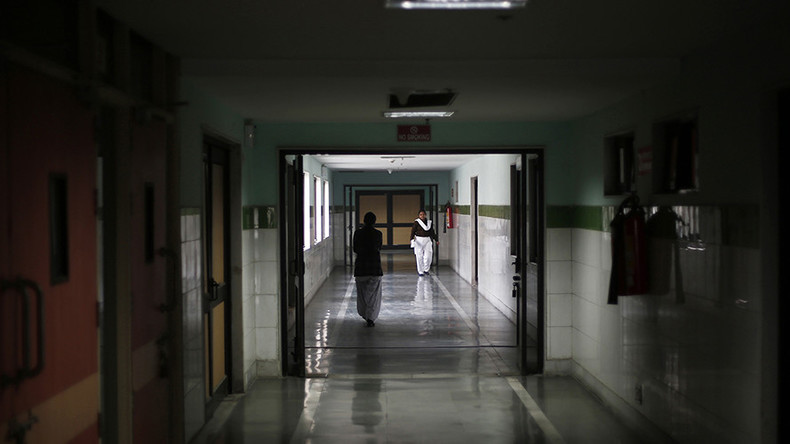 More than 70 children have died in less than a week in a public hospital in India's northern state of Uttar Pradesh, allegedly caused by a cut in the facility's oxygen supply due to unpaid bills.
Some 23 of the children, including many newborns, died within 24 hours on Thursday.
The hospital, the largest in Gorakhpur, was without liquid oxygen for at least two hours on Friday as the firm supplying it allegedly stopped the flow to the hospital, local media report.
The unpaid bills amounted to little more than $10,500, according to reports. It is the second time this year the company has stopped supply for the same reason.
"Deaths due to oxygen shortage would mean a despicable incident," Uttar Pradesh's chief minister said, promising to "not spare anyone found guilty" of involvement in the tragedy.
Raids have been conducted on the offices of Pushpa Sales, the company responsible for supplying the oxygen, to determine if it was at fault.
Documents seen by the Hindustan Times show that Pushpa Sales had repeatedly warned the Baba Raghav Das Medical College that supply could be disrupted if the 680,000 rupee bill remained unpaid.
The tragedy has provoked outrage in India, with Nobel Peace Prize recipient and children's rights activist Kailash Satyarthi calling it a massacre.
"Kins of the deceased were shooed away after handing over dead bodies to them. Post mortem examinations not done on dead bodies. Admission cards were taken out of records. Extremely sad," wrote former Uttar Pradesh chief minister and opposition leader, Akhilesh Yadav.
Indian Prime Minister Narendra Modi said he was "constantly monitoring" the situation.
The government insists that the deaths are not related to the lack of oxygen supply.
"Medical college officials told us that there was alternative oxygen supply, therefore the charge of lack of oxygen supply can be ruled out," District Magistrate Rajeev Rautela told reporters on Friday.
Local politician Kamlesh Paswan reiterated these claims, instead blaming the district's decades-long struggle against encephalitis.
"An average eight-10 patients die every day in this hospital, which gets a large number of encephalitis patients," he said.
The hospital has been treating cases of mosquito-borne Japanese encephalitis and acute encephalitis syndrome for decades. An estimated 50,000 children in Uttar Pradesh have died from the diseases since the first cases were reported in the 1970s.
The college's principal and head of pediatrics have both been removed from their posts following the tragedy. The former was dismissed for negligence in delaying the release of payment to the the oxygen supplier, while the latter reportedly saved the lives of many children, having himself paid a different supplier for oxygen when regular supplies ran out.