6.5 quake hits western China, tremors reach Kazakhstan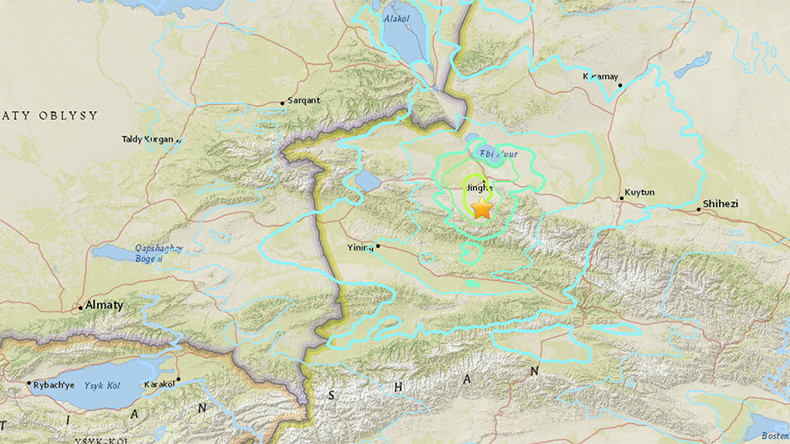 A 6.5-magnitude earthquake struck China's autonomous region of Xinjiang, with tremors reportedly felt in neighboring Kazakhastan.
The quake rocked an area near the town of Jinghe in Xinjiang Uyghur Autonomous Region at 23:27 GMT on Tuesday, the US Geological Survey reported. The quake, which the USGS revised down to 6.3, reportedly hit at a depth of 25.9km.
The quake occurred some 107 kilometers southeast of Dostyq, a small town in Kazakhstan's Almaty Region on the border with China with an estimated population of less than 5,000 residents.
The impact could be felt in another Kazakh city, Zharkent, with over 30,000 people, located 226.7 km (140.9 mi) from the epicenter. Shihezi in China's northwestern Xinjiang with over half a million residents is 255.3 km (158.6 mi) away.
Residents of Kazakhstan's biggest city, Almaty, located some 490 kilometers from the epicenter, were also shaken by the quake. Some of them took to Twitter to report mild tremors.
"Chandelier - the best indicator of the power of a quake," one user wrote.
"I was scared to death, I love Almaty," another wrote.
"Should we lie down the ground or not? What do you think?" @Turar111 wrote.
Almaty's emergency services said that when the quake jolted the city it felt like a 4-magnitide tremor and did not cause any casualties or damage to critical infrastructure.
Read more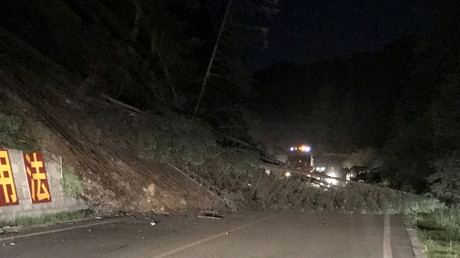 It was the second earthquake to hit China in less than 24 hours after a powerful 6.5-magnitude quake struck southwestern Sichuan province on Tuesday evening.
At least nine people were reported to be killed by its impact at a tourist resort and 164 injured, Xinhua reported on Wednesday, citing provincial authorities. Five of those killed were people visiting a Jiuzhaigou national park, hugely popular with local tourists. Over 34,000 people visited the park on Tuesday.
Authorities said they evacuated 31,500 tourists to safety in the wake of the quake. About a hundred were trapped due to a landslide.
A hotel building has partially collapsed, forcing the urgent evacuation of 2,800 people, according to Sichuan fire service, as cited by Reuters.