Turkey starts building wall on Iran border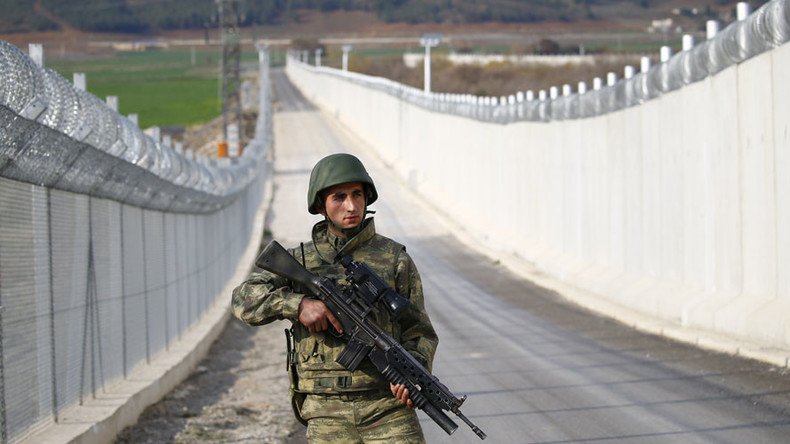 Turkey has begun construction of a wall along the border with Iran in a bid to crack down on smuggling and terrorism, following the building of a similar barrier already standing on the border with Syria.
Suleyman Elban, the governor of Agri province, visited the wall on Tuesday together with a local police chief and gendarmerie commander before meeting with the area's border guards, the Dogan news agency reported.
The 2-meter-wide, 3-meter-high barrier is being built out of portable blocks and is aimed at boosting Turkey's security by keeping out smugglers and stopping infiltration by Kurdish militants.
Turkey claims that the PKK, the banned Kurdish movement involved in an ongoing conflict with the government, has bases and camps on the Iranian side of the border. Iran is also a known source of drug trafficking and other contraband which passes through Turkey before making its way to Europe.
In June, Ankara announced that it had finished building a 700km-long wall running along most of its 828km border with Syria, complete with an "integrated security" system comprising of sophisticated lighting, sensors and security cameras. Responsibility for the Iranian border project has been placed in the hands of the Public Housing Development Administration (TOKİ), which is mainly responsible for housing construction works.
Unlike the proposed wall between Mexico and the United States, which has caused an uproar against President Donald Trump, the Turkish-Iranian wall has been met with little flak on the other side. In May, Iranian Foreign Ministry spokesman Bahram Qassemi said that his country welcomed any steps towards increasing border security.
"We welcome all kinds of actions that will increase security and stability at the border. We are in favor of deeper bilateral dialogue to increase coordination in this regard," the Milliyet newspaper quoted Qassemi as saying. "Border security is important for both Iran and Turkey, and the necessary efforts should be made by both countries."
Relations between Turkey and Iran have soured since the onset of the Arab Spring in 2011 and the Syrian civil war, where Tehran supports President Bashar Assad while Ankara has called for him to go.
Turkey is also concerned about Iranian-backed Shiite militias in Iraq involved in the fight against Islamic State (IS, formerly ISIS/ISIL), while Iran is equally anxious about Turkish military activity there. But in more recent months the two powers have found themselves on the same side in the Gulf diplomatic crisis, denouncing the sanctions and blacklisting of Qatar by Saudi Arabia and its allies.
You can share this story on social media: