US Navy team starts building maritime ops center at Ukrainian base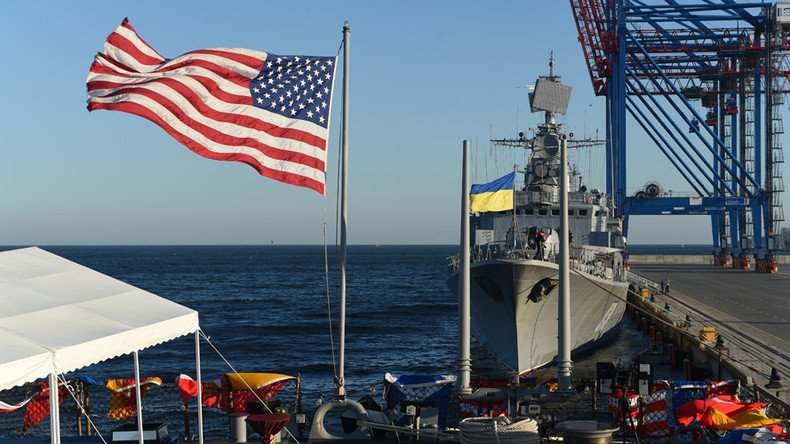 The US Navy has launched construction of a maritime operations center in Ukraine which will serve as a "major planning and operation hub" during military exercises hosted by the country.
"Seabees [US Naval Construction Battalions] held a groundbreaking ceremony for a maritime operations center on Ochakov Naval Base, Ukraine, July 25," the US Navy said in a statement released on Monday.
The Seabees have been in Ochakov since April to establish contracts, obtain construction permits, and perform other logistical tasks for the maritime operations center project, the Navy said.
The maritime operations center is one of three projects that the Seabees will execute in Ochakov.
"Beginning construction in Ukraine is a significant accomplishment," Lt. j.g. (junior grade) Jason McGee, officer in charge of Det. Ukraine said.
"Our ability to maximize European reassurance initiatives in Ukraine holds strategic importance, and will ultimately improve host nation defense capacity and infrastructure, strengthen relations and increase bilateral training capabilities," he added.
The Seabees are also set to build a boat maintenance facility and entry control points with perimeter fencing in Ochakov.
Last month, several US missile warships, over 800 sailors, and a Navy SEALs team took part in the 12-day Sea Breeze 2017 joint NATO naval exercise off Ukraine. The multinational war games took place in the northwestern part of the Black Sea, near the Ukrainian port city of Odessa.
The Sixth Fleet said in a press release that the US Navy sent the USS Hue City Ticonderoga-class guided-missile cruiser and the USS Carney Arleigh Burke-class guided-missile destroyer, along with a P-8A Poseidon patrol aircraft.
Moscow has long objected to NATO's large-scale war games near the Russian border, which intensified after the March 2014 referendum in which Crimea voted for reunification with Russia.
In late June, Russian Defense Minister Sergey Shoigu said that the Alliance's provocative actions "raise mutual suspicions and push us [Russia] to undertake retaliatory measures, mainly in the western strategic direction."
On July 13, Russian permanent representative to NATO Alexander Grushko said that NATO activities in eastern Europe "not only ensure a reinforced military presence of the allies in the immediate vicinity of Russia's borders but in fact represent an intensive mastering of the potential theater of military operations."
You can share this story on social media: