'Big mistake for US to think it's safe' – N. Korea hits out after new UN sanctions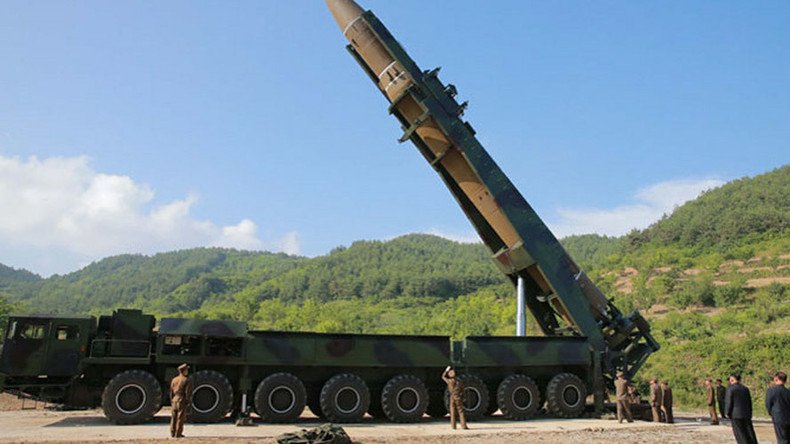 Pyongyang has criticized the new round of UN restrictions against it, promising to respond with "righteous action" and hinting that the US mainland cannot consider itself safe, North Korean state media reported.
Sanctions approved by all 15 members of the UN Security Council on Saturday outraged North Korea, which for years has refused to negotiate its nuclear program, instead accusing the US and its allies of aggression.
Pyongyang has promised to use "righteous action" in response, although without elaborating, North Korea's KCNA news agency reported, as cited by Reuters.
"It's a wild idea to think the DPRK will be shaken and change its position due to this kind of new sanctions formulated by hostile forces," AP cited the agency.
North Korea reiterated its previous claims that the US mainland is vulnerable, as it had earlier said that its missiles can hit the whole of the US.
"There is no bigger mistake than the United States believing that its land is safe across the ocean," KCNA said.
Later on Monday at the ASEAN meeting in the Philippines, North Korea issued a statement saying it is ready to give Washington a "severe lesson" with its strategic nuclear force, should the US resort to military action against it. Pyongyang also said its nuclear program is not subject to negotiation.
The statement, attributed to Foreign Minister Ri Yong-ho, called the sanctions "fabricated" and warned there would be "strong follow-up measures," Reuters reports.
Russia wants all sides of the Korean crisis to refrain from military action and seek a diplomatic solution. Foreign Minister Sergey Lavrov called on all parties "to show maximum restraint to avoid the projection of military power on the Korean Peninsula and immediately start seeking a political and diplomatic resolution to the problems of the peninsula, including its denuclearization." Lavrov was quoted by the Foreign Ministry after he met his North Korean counterpart, Ri Yong-ho, on the sidelines of the ASEAN summit in Manila, the Philippines, on Sunday.
READ MORE: Entire US mainland in range of N. Korean nukes after latest test – Kim Jong-un
Beijing supported this, with its Foreign Ministry calling for restraint and positive efforts to resolve the crisis, according to Reuters.
Both Moscow and Beijing put forward a joint "double freezing" initiative, suggesting that North Korea suspend missile and nuclear tests while the US and its allies halt military exercises in the region. However, similar proposals have previously been rejected by Washington.
On Saturday, the UN unanimously approved a seventh round of sanctions against North Korea over its nuclear and missile tests. The measures target the North's key revenue sources – the export of coal, iron, and iron ore among other economic restrictions.
READ MORE: North Korea sanctions: The many attempts to punish Pyongyang
You can share this story on social media: