Guantanamo style? Turkey introduces court uniforms for failed coup defendants & terror suspects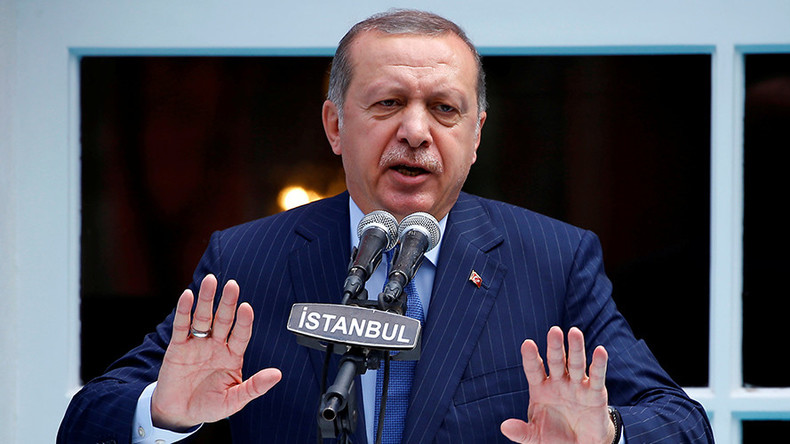 Turkish President Recep Tayyip Erdogan has said defendants in the trials linked to last year's failed coup as well as terrorism suspects will now have to wear a standard brownish prison uniform, following controversy in which an accused soldier wore a t-shirt saying 'hero' in court.
The 'hero' T-shirt set social media abuzz, and a number of people have since been reportedly been detained by police over wearing similar shirts.
Speaking at the opening of a new stadium in the Malatya province Saturday, Erdogan announced the new dress code, which he had earlier called for at the one-year anniversary of the attempted coup in July.
"Now we are introducing the single-type attire. It will be dark almond-colored. There will be jumpsuits and there will be jackets and trousers," Erdogan said. He added that jumpsuits will be worn by "coup plotters" and jackets and trousers will be worn by "terrorists," as cited by Hurriyet Daily News.
"No more coming to court wearing whatever they want," he concluded.
During a speech in Istanbul commemorating the victims of last year's botched coup attempt in mid-July, Erdogan said all suspects who are being tried for involvement in the 2016 failed coup should wear uniforms similar to those worn by prisoners at the infamous Guantanamo Bay prison.
READ MORE: Turkey says Jews should 'appreciate' Ottoman Empire, Israel says its 'days have passed'
"I have spoken with our prime minister and said when they appear in court, they should wear one type of outfit, like in Guantanamo," Erdogan said.
Over 240 people were killed and more than 2,000 were injured in the failed coup attempt of July 2016 according to official data. Over 50,000 people have been arrested in a sweeping crackdown in the aftermath of the mutiny, including alleged coup supporters, as well as opposition figures, teachers, journalists and civil servants. Over 150,000 soldiers, police officers and officials have been dismissed or suspended from their posts.
You can share this story on social media: