Israel to expel Al Jazeera, block broadcasts & revoke journalists' credentials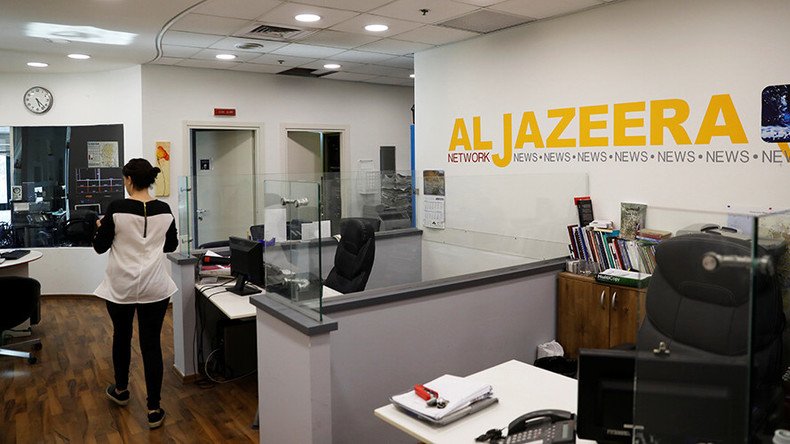 Israel has announced plans to effectively expel the Al Jazeera network from the country, revoking journalists' credentials, shutting the company's bureau in Jerusalem and pulling its broadcasts from national cable and satellite television networks.
Israeli Communications Minister Ayoub Kara announced the measures Sunday at a news conference. Journalists and representatives from Al Jazeera were not permitted to attend.
"We are going to set measures in order to illustrate our war on terrorism, on radical Islam and our solidarity with the sane Arab world," Kara stated.
While the proposal will not take immediate effect, Kara confirmed that both the Arabic and English versions of the news channel will be shuttered once the proposal is passed in the Knesset (Israel's parliament).
"I am the only one [in government] who is an Arabic speaker, who understands Arabic and my native language is Arabic. You cannot fool me with Al Jazeera English and Al Jazeera Arabic. I know how to identify how disturbing reporting becomes incitement instead of being free speech," he added.
Kara claimed that such extreme measures are ostensibly intended to improve journalistic practice in the country by creating "a situation that channels based in Israel will report objectively."
"We have based our decision on the move by Sunni Arab states to close the Al Jazeera offices and prohibiting their work."
"I congratulate the Minister of communications, Ayoob for my guidance took today in line with practical steps to stop the activity of incitement in Israel," Israel's Prime Minister Benjamin Netanyahu said of Kara's proposal on Twitter.
אני מברך את שר התקשורת איוב קרא, שבהמשך להנחייתי נקט היום בשורת צעדים מעשיים כדי לעצור את פעילות ההסתה של אל-ג׳זירה בישראל.

— Benjamin Netanyahu (@netanyahu) August 6, 2017
In July, Netanyahu announced that he was working to shut down the network which he accuses of stoking tensions and inciting violence in Israel, particularly at the al-Aqsa mosque where six Palestinians and five Israelis, including two police officers, have been killed in recent clashes.
READ MORE: Netanyahu threatens to kick Al Jazeera out of Israel for 'inciting' Al-Aqsa protests
"This attack on Al Jazeera is really an attack on all critical independent journalism." Aidan White, director of the London-based Ethical Journalism Network told Al Jazeera.
The network's offices in the Palestinian territories of Gaza and the West Bank city of Ramallah would not be affected.
The network will not give up its Jerusalem bureau without a fight, however.
"Al Jazeera Media Network denounces this decision, which comes in the context of a campaign that was initiated by a statement made earlier by Israeli Prime Minister Benjamin Netanyahu, in which he accused Al Jazeera of inciting violence during its coverage of the al-Aqsa Mosque," the news organization wrote in an online statement.
"It also finds the justifications made by the minister of communications as odd and biased as they are in unison with the actions carried out by a number of Arab countries (Saudi Arabia, UAE, Bahrain, Egypt, and Jordan) that have closed the network's bureaus, shut down its cable and satellite transmissions, and blocked its websites and applications."
"Al Jazeera stresses that it will watch closely the developments that may result from the Israeli decision, and will take the necessary legal measures towards it."
The network also vowed to continue its coverage of the ongoing conflict between Palestine and Israel "in a professional and objective manner in accordance with the common journalistic standards set by the relevant international organisations."
Saudi Arabia and Jordan have both shut Al Jazeera bureaux this year as part of the ongoing 'cold war' playing out in the Gulf, which culminated in the full blockade of Qatar.
Egypt banned the Al Jazeera network and several other websites that were critical of the government in May and broadcasts have also been blocked in the UAE.
You can share this story on social media: