'Like a nightmare': Refugees protest conditions at Australian island detention center (VIDEO)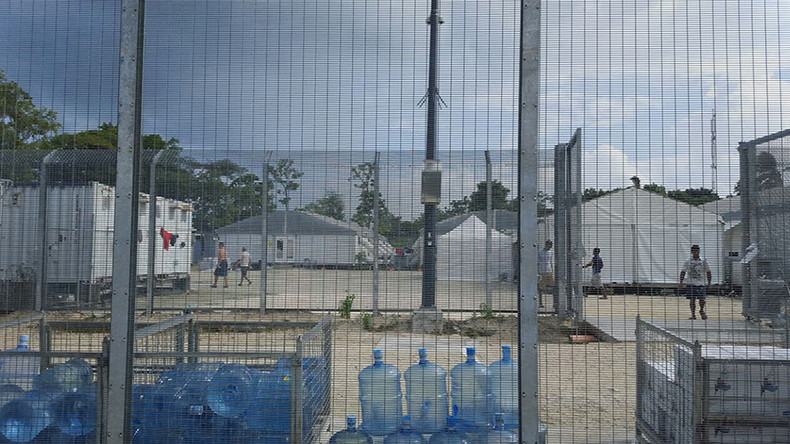 Refugees have continued their protest on Papua New Guinea's Manus Island detention center over the removal of power, water, and medical services. A journalist on the scene warns that there could be a "big tragedy" if they are forcibly removed.
The protests at the detention center, which is run by Australia, have reportedly been met with an increased security presence for most of the last week. The removal of vital services is seen by those held there as part of a wider campaign to move them to another detention center on the island.
Behrouz Boochani, an Iranian journalist and refugee on the island, has warned that there will be a "big tragedy" if Australia forcibly removes the inhabitants, describing the living conditions there as "like a nightmare."
Boochani further reports that some refugees have become sick and are vomiting blood "Probably because of [a] lack of water & dirty toilets," and that a reliable source has told him that local police and special forces are planning to attack the center in the coming days.
Manus Island hit the headlines on Thursday for other reasons. Transcripts of a conversation between US President Donald Trump and Australian PM Malcolm Turnbull were leaked, with the island featuring prominently in the pair's conversation.
A deal to take in 1,250 refugees from Australia's detention centers on Manus and the island nation of Nauru was agreed by former President Barack Obama on humanitarian grounds, following intervention from the United Nations. In return, Australia agreed to resettle refugees from El Salvador, Guatemala, and Honduras.
However, during the phone call, the transcript of which was leaked to the Washington Post, Trump made his feelings on the "dumb deal" perfectly clear.
"I hate taking these people," the US president said. "I guarantee you they are bad. That is why they are in prison right now. They are not going to be wonderful people who go on to work for the local milk people."
"I think it is a horrible deal, a disgusting deal that I would have never made," continued Trump. "As far as I am concerned, that is enough, Malcolm. I have had it."
Though Trump has a clear distaste for the deal, Vice President Mike Pence confirmed in April that the US would be honoring the commitment to Australia "out of respect to this enormously important alliance."