China urges N. Korea to abide by UN sanctions, stop missile tests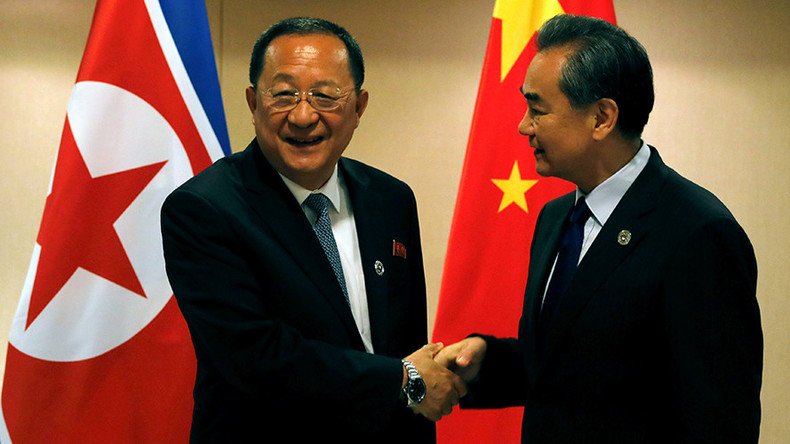 The Chinese foreign minister called on his North Korean counterpart to accept a newly-passed UN resolution and stop provoking "the international community's goodwill" by conducting missile launches and nuclear tests.
Chinese Foreign Minister Wang Yi and his North Korean counterpart, Ri Yong-ho, met in Manila as foreign ministers of the Association of Southeast Asian Nations (ASEAN) and several other countries gathered to discuss regional issues.
Wang also urged Washington and Seoul to "stop increasing tensions" in the region.
Earlier, Wang urged other governments to restart the six-nation negotiations with North Korea that include Russia, China, South Korea, the US, and Japan.
"The aim is to bring the peninsula nuclear issue back to the negotiating table and seek a solution through negotiations until the denuclearization of the peninsula and the stability of the peninsula are achieved," he said, as quoted by the AP.
The meeting between the Chinese and the North Korean foreign ministers came hours after the UN Security Council unanimously approved new sanctions against North Korea.
The US-drafted resolution prohibits North Korean exports of coal, iron, iron ore, lead, lead ore, and seafood, also banning increasing the current numbers of North Korean laborers working abroad, new joint ventures with Pyongyang, and new investment in joint ventures.
Russia's envoy to the UN, Vassily Nebenzia, urged Pyongyang to cancel its nuclear and missile programs, and come back to a non-proliferation regime. Nebenzia, nevertheless, criticized Washington and its allies' recent actions in the region, saying that any drills close to the North Korean border are viewed as "a direct threat to its national security" by Pyongyang.
Recently, US envoy to the UN Nikki Haley said that any new resolution by the UN Security Council "that does not significantly increase the international pressure on North Korea is of no value." She particularly urged China "to decide whether it is finally willing to take this vital step," arguing that "time for talk" on North Korea is over.
At the end of July, US President Donald Trump tweeted that "they [China] do NOTHING for us with North Korea, just talk. We will no longer allow this to continue," adding that it shouldn't take much for Beijing to "solve this problem!"
In mid-July, Chinese Foreign Ministry spokesman Geng Shuang told a news briefing: "Recently, certain people, talking about the Korean Peninsula nuclear issue, have been exaggerating and giving prominence to the so-called 'China responsibility theory.'"
"I think this either shows lack of a full, correct knowledge of the issue, or there are ulterior motives for it, trying to shift responsibility," he said.
Meanwhile, Russia stated that the US is playing a "baseless" blame game.
"We consider the attempts of the US and some other countries to shift the responsibility in what is happening [on the Korean Peninsula] onto Russia and China, and to almost blame Moscow and Beijing for 'conniving in' North Korea's nuclear missile ambitions, as baseless," the Russian Foreign Ministry said in a statement this week.
The US and its allies have been flexing their muscles in the region recently. About a week ago, a pair of supersonic B-1B Lancer bombers joined by Japanese and South Korean military planes flew over the Korean Peninsula, and following the latest North Korean missile launch, the US and South Korea conducted live-fire drills.
In July, Russia and China joined diplomatic forces and urged North Korea, South Korea, and the US to sign a de-escalation plan designed to decrease tensions in the region.
The joint initiative focused on the idea "to simultaneously freeze North Korean nuclear and missile activities, and US and South Korean joint military drills," Russian President Vladimir Putin said at a press conference at the time.
The plan, however, was rejected by Washington.
You can share this story on social media: