Terrorist attack potential 'very high' as 271 ISIS jihadists return to France – interior minister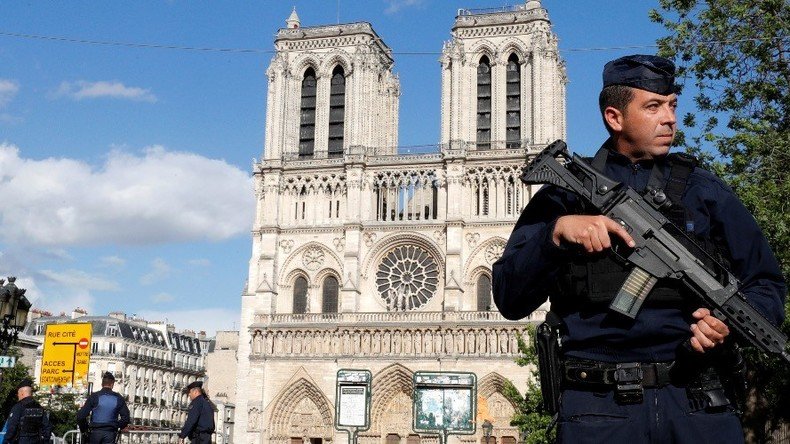 French authorities have detained "some" and are investigating the rest of the 271 jihadi militants who are known to have returned after fighting for ISIS in Iraq and Syria, the country's interior minister has revealed, adding, that the terrorist threat in France remains "very high."
Some 217 adult French nationals have returned to France from fighting in the Middle East, Gerard Collomb told Le Journal du Dimanche. In addition, some 54 minors have reportedly made it back home after fighting alongside self-proclaimed IS (Islamic State, formerly ISIS/ISIL) terrorists.
An undisclosed number of them have been detained while the rest are being vetted by public prosecutors, the interior minister said. He revealed that an estimated 700 French militants had travelled to Iraq and Syria over the past years. Some of them have been killed with the exact number unknown.
READ MORE: French PM warns 15,000 people being radicalized, 1,400 probed amid foiled terror plots
With the growing number of returning radicalized fighters, the threat of terrorist attacks in France remains "very high," the minister said, noting seven foiled plots so far this year.
Collomb added that in addition to returnees, another 18,500 people have been flagged under a preventative monitoring system for radicalized behavior, Reuters reported.
France has been on high alert since January 2015, when it was hit by a series of Islamic State-linked terrorist attacks. The most notable of these occurred in November of 2015, when 130 people were killed and over 360 injured in coordinated terror attacks in Paris and Saint-Denis, a northern Parisian suburb.
An attack in Nice on July 14, 2016, killed at least 84 people when a truck driven by an IS sympathizer plowed through crowds during Bastille Day celebrations. This year, jihadist attackers were involved in two incidents targeting police on the Champs Elysees in Paris.
You can share this story on social media: