Catholic priest caught bringing 13yo to motel for sex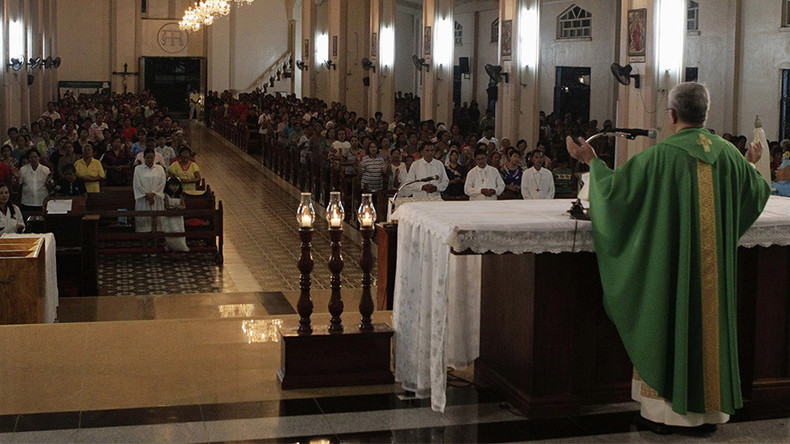 A Catholic priest in the Philippines was caught by police allegedly driving a 13-year-old girl to a motel to have sex after paying her 16-year-old pimp.
Monsignor Arnel Lagarejo was arrested Friday in a joint operation by Marikina police and the Department of Social Welfare and Development (DSWD) after the victim's mother contacted authorities.
READ MORE: Vatican's 3rd most powerful figure, Cardinal Pell, charged with multiple sex assaults
The priest, president of Cainta Catholic College and parish priest of St. John The Baptist, faces charges of violating the Anti-Trafficking in Persons Act of 2003.
Eastern Police District Director Chief Superintendent Romulo Sapitula said Lagarejos found the 16-year-old pimp on social media, reports PhilStar.
The Diocese of Antipolo issued a statement noting the seriousness of the incident and expressing its willingness to cooperate with investigating authorities. It confirmed that Lagarejos has been relieved of all of his duties in the diocese.
Lagarejos is also "forbidden from having contact with all but his lawyer, his brother-priests, and church authorities. He is particularly forbidden from any communication with minors and from maintaining company with them in any way whatsoever."
The diocese said it does "not in any way condone or abet the trafficking in persons, particularly of minors, nor protect the offenders from prosecution, and subsequent trial and punishment when evidence so warrants."
Meanwhile, a separate inquiry will be carried out by the Catholic Bishops' Conference of the Philippines (CBCP). Church authorities say this will be conducted independently of whatever conclusions may be reached by the police, and will be submitted to the Vatican upon completion.
Lagarejos has been released on bail after three days in police custody and is due to appear in Marikina court on August 3. Church officials told Rappler that they did not provide the bail money.
You can share this story on social media: