China's 1st foreign naval base officially opens in Djibouti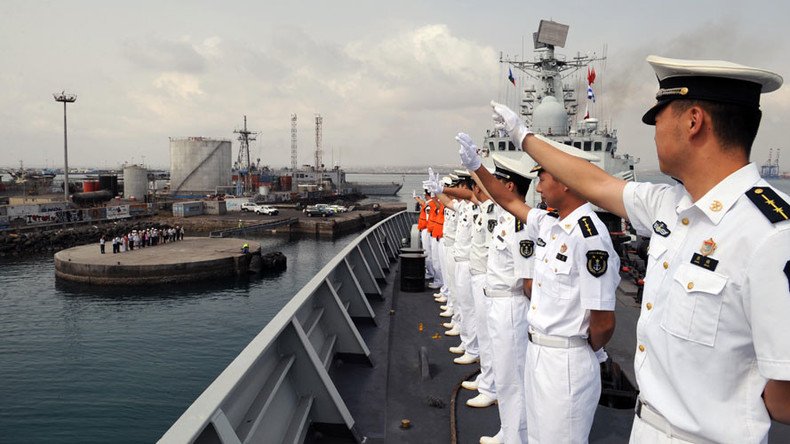 China has formally launched its first overseas naval facility in Djibouti, an East African nation that is already hosting America's only expeditionary Marine base in Africa.
Five Chinese formations and Djibouti's Three Services Honor Guard took part in the launch ceremony on Tuesday, the People's Daily reported, referring to the base as "the logistics facility." The event marked the 90th anniversary of the Chinese military.
The base is set to enable China to better support its patrols in waters off Somalia and Yemen and carry out international humanitarian operations as well as naval exercises, according to the newspaper.
More than 300 people attended the ceremony, including deputy Chinese naval commander Tian Zhong and Djibouti's defense minister, Reuters reported citing Chinese state radio.
Earlier in July, several Chinese Navy ships carrying personnel from the People's Liberation Army (PLA) set sail from their home bases to Djibouti.
Commenting on the departure, the state-run Global Times wrote in an editorial: "Certainly this is the People's Liberation Army's first overseas base and we will base troops there. It's not a commercial resupply point. It makes sense there is attention on this from foreign public opinion."
This year, the Chinese military industry commissioned China's first aircraft carrier, Liaoning, with the second carrier of the same class on the way in coming years. According to the Chinese press, the Navy is also expecting a third carrier, the nuclear-powered Type 003, to enter service soon.
The Chinese Navy also relies heavily on principal surface ships, including destroyers and frigates, to defend Beijing's interests.
In mid-July, the Type 052D missile destroyer Changsha, missile frigate Yungchen, and auxiliary ship Luomahu arrived in the Baltic Sea for joint exercises with the Russian Navy.
To date, little is known about China's naval installation in Djibouti. Recently, American global intelligence firm Stratfor released what appeared to be satellite imagery of the base, apparently showing its fortifications, tarmac, and a number of hangars and underground facilities.
Stratfor senior analyst Sim Tack noted the Chinese compound draws attention due to its thick security perimeter.
He also mentioned that the place is well protected against any eventuality thanks to "China's habit of hardening their bases against potential attacks."
Djibouti, a tiny East African nation of around 887,000 people, is sandwiched between Ethiopia, Eritrea, and Somalia. It also hosts US, French, and Japanese military bases, taking advantage of the country's strategic location at the southern entrance to the Red Sea, near the Suez Canal.
The US Navy maintains a sizeable expeditionary base, Camp Lemonnier, at Djibouti's Ambouli International Airport. The facility is said to be the only permanent US military base in Africa.
You can share this story on social media: