European Commission launches case against Poland over judicial reform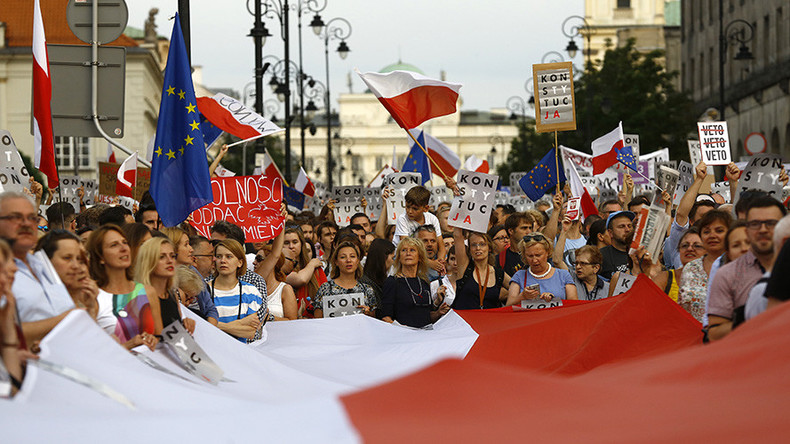 The European Commission has launched legal action against Poland over its new law giving the government more control over judges. The procedure could result in Poland losing its voting rights in the bloc.
The decision to start the so-called "infringement procedure" against Warsaw was taken on Wednesday, the European Commission said in a Saturday statement. Poland was given a month to respond.
"The new rules allow the minister of justice to exert influence on individual ordinary judges through, in particular, the vague criteria for the prolongation of their mandates thereby undermining the principle of irremovability of judges," the statement reads.
Another major legal concern was the different retirement ages for female (60) and male (65) judges, Reuters reported.
On Friday, First Vice President of the European Commission Frans Timmermans sent a letter to Poland's foreign minister inviting him and the country's justice minister to meet in Brussels to discuss the issue.
Earlier this week, Timmermans warned that the European Commission could act on Article 7 of the EU treaty, suspending Poland's EU voting rights, if Warsaw proceeds with the law.
The European Commission's action comes despite Polish President Andrzej Duda vetoing two bills giving the government the power to appoint Supreme Court judges on Tuesday. However, he signed into law the bill on ordinary courts.
Warsaw blasted Timmermans' warning, saying Poland "won't accept blackmail from EU officials, especially blackmail that is not based on facts.
"All the laws prepared by the Polish parliament are in compliance with the constitution and democratic rules. We regret that Timmermans, without knowing the draft laws and regulations of Polish law, has formulated negative criticism against Poland," government spokesman Rafal Bochenek told Polish news agency PAP on Wednesday.
Polish Prime Minister Beata Szydlo also said her cabinet would not yield "to pressure from the street and abroad."
Mass demonstrations have taken place in Poland over the three bills. Those against the law argue that it could undermine the separation of powers and put the Supreme Court under the direct control of the government.
It is not clear whether the EU would be able to prosecute Poland in any case. Hungarian Prime Minister Viktor Orban has already pledged to veto any attempt to suspend Poland's voting rights.
You can share this story on social media: