US orders embassy staff families to leave Venezuela amid unrest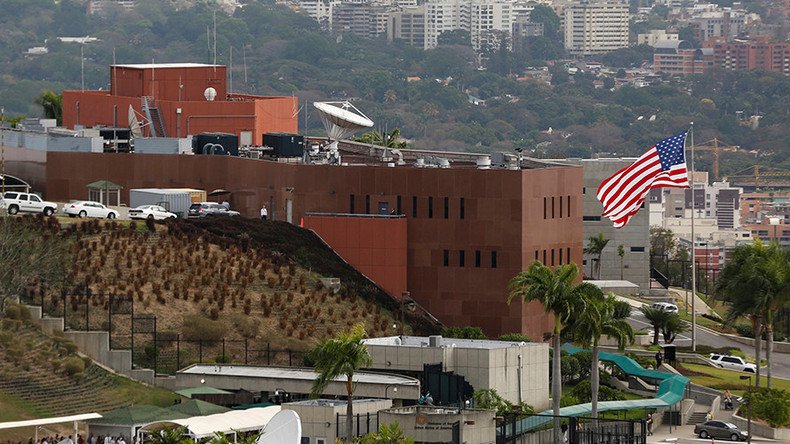 The US State Department has ordered family members of embassy personnel in Caracas to leave the country due to security concerns amid violent protests. It also issued a warning against traveling to Venezuela.
The State Department notification came on Thursday, warning US citizens of "social unrest, violent crime, and pervasive food and medicine shortages."
"This travel warning also informs U.S. citizens that on July 27, the Department ordered the departure of family members and authorized the voluntary departure of U.S. government employees from the U.S. Embassy in Caracas," it reads.
The embassy employees willing to depart the Latin American nation have been sanctioned to leave, while those who are staying had their movement within the capital and other parts of the country restricted.
The warning also encouraged US tourists currently in Venezuela to consider whether it is safe to stay, saying the "security situation is unpredictable and can change quickly."
The decision comes ahead of a July 30 vote on a special Constituent Assembly, expected to revise the current constitution. Voters will be heading to the polls to elect 364 members of the new body, while 181 other representatives will be chosen by members of seven social sectors.
On Thursday, the Venezuelan authorities banned mass gatherings, starting on Friday through Tuesday, despite fears the move will draw more protesters onto the streets. One day previously, the US administration targeted 13 senior Venezuelan officials with economic sanctions that President Nicolas Maduro called "illegal, insolent and unprecedented."
Mass protests have gripped Venezuela since April, leaving at least 100 people dead. The US State Department is warning American citizens in Venezuela of possible clashes and violence between protesters and police, as well as detentions and violent crime amid the turmoil, including homicide, armed robbery, kidnapping and carjacking.
The State Department advised US tourists to cover their medical needs due to medicine shortages.
You can share this story on social media: