Clashes break out at Jerusalem's Al-Aqsa mosque as security measures lifted (VIDEOS)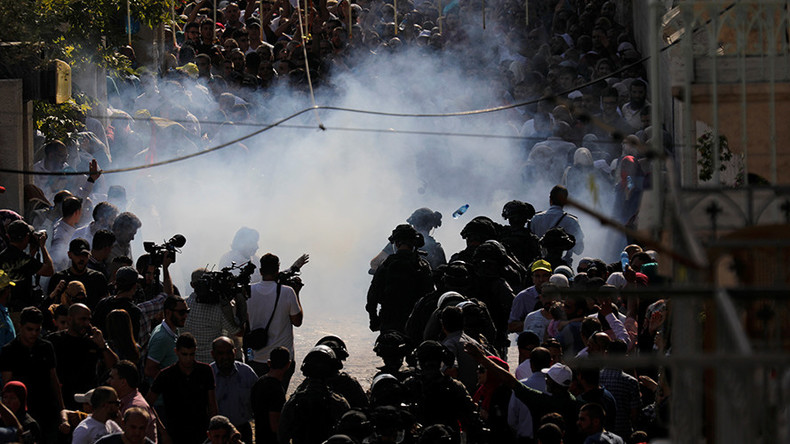 Over 100 people were injured as clashes broke out at the Al-Aqsa mosque in Jerusalem on Thursday after Palestinians were allowed to freely enter the Temple Mount compound for the first time in weeks.
At least 113 Palestinians were injured, according to the Red Crescent, after Israeli forces used stun grenades to control the thousands of people rushing into the compound.
Palestinians flocked en masse into the revered mosque after the Islamic Waqf authority gave worshipers the go-ahead, lifting the prayer ban that had been imposed in connection with the metal detectors and proclaiming "the new era of victory."
Palestinian Authority President Mahmoud Abbas said in a TV address that "noon prayers will take place at the Al-Aqsa mosque."
"We will sacrifice ourselves for Al-Aqsa!" the worshipers chanted, Reuters reported, with several of them climbing atop the mosque to erect Palestinian flags there, which were later removed by Israeli troops.
On Wednesday, Israeli officials discarded additional security measures, including cameras and metal detectors, which were installed at the Temple Mount after two Israeli Arabs killed two police officers at the holy site.
The security measures had sparked heated protests and violence, which saw four Palestinians and a family of settlers killed.
READ MORE: Israel agrees to remove metal detectors from Temple Mount after wave of violent protests
At around noon Thursday, worshipers entered Al-Aqsa for the first time in almost two weeks, but tensions reportedly arose when Israeli forces refused to open one of the gates.
According to sources cited by the Times of Israel, police at first opened, then closed the gate, before reportedly firing stun grenades to disperse the crowd. The gate was then closed and the area cornered off.
The Israeli Police said in a tweet that worshippers "began throwing stones at the policemen," and that forces "dispersed" them using "control methods."
"A policeman was hit by a stone in the head," the police said, adding that the situation had calmed considerably since then.
Videos shared on social media appear to show chaos and people fleeing from the area of the mosque.
Following the unrest, Israeli Prime Minister Benjamin Netanyahu ordered additional security personnel sent in to Jerusalem to assist local police.