New US Russia sanctions 'absolutely unacceptable,' come at expense of EU jobs – Austrian chancellor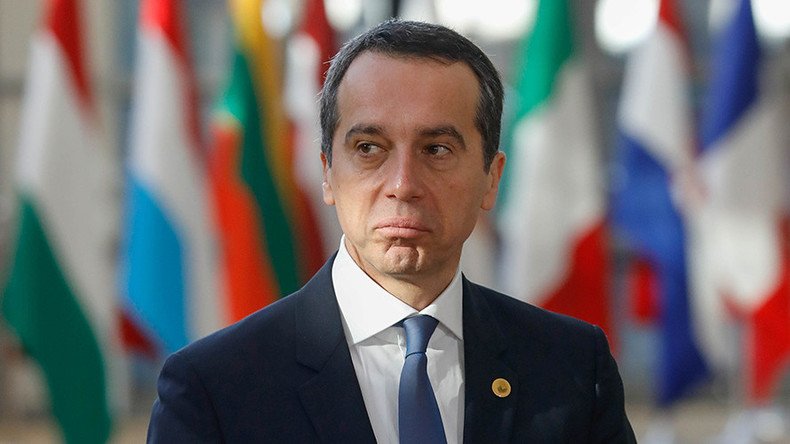 The Austrian chancellor has joined the chorus of EU officials criticizing the latest US sanctions against Russia, saying it is "absolutely unacceptable" for his country to cave in to Washington's policies at the expense of European jobs.
"I consider the Russia sanctions imposed by the US absolutely unacceptable," Austrian Chancellor Christian Kern wrote on Facebook on Wednesday. "Confusing political interests with economic interests at the expense of European jobs is a no-go."
"Energy supply of Europe is a matter for Europe!" Kern added.
The new anti-Russian sanctions are outlined in an amendment to a wider bill imposing measures against Iran. It was approved by the US House of Representatives on July 25 by an overwhelming majority of 419-3, but still needs to pass the US Senate and be signed by the president to become law.
The legislation seeks to introduce individual sanctions for contributing in Russian energy projects, and targets major sectors of Russia's economy, including the defense, railway and banking industries. It also outlines steps to hamper the construction of the Gazprom-run flagship gas pipeline project Nord Stream 2.
Austria and its neighbor Germany – the main beneficiaries of Nord Stream 2 – have consistently criticized the bill. Commenting on the House vote on Tuesday, Austrian Chancellery spokesman Jurgen Schulz told TASS that Vienna was opposed to the fact the US sanctions are likely to target European companies holding stakes in Russian energy projects.
"Extraterritorial application of foreign laws [in Europe] is completely unacceptable. As far as we know, the proposed sanctions may also be directed against European companies working on developing European energy infrastructure," Schwarz said, describing the conduct of the US as "very unfortunate."
Last Wednesday, the CEO of Vienna-based gas and oil company OMV, Rainer Seele, said it is crucial that European customers receive additional volumes of Russian gas in the nearest future.
"From the European point of view, extra volumes of Russian natural gas are necessary, as our volumes of production have started to significantly decrease," Seele wrote for Handelsblatt daily, as cited by Finanz Nachrichten.
In mid-June, Austrian Chancellor Kern and German Foreign Minister Sigmar Gabriel issued a joint statement in which they accused their transatlantic ally of neglecting European opposition.
"Europe's energy supply is a matter for Europe, and not the United States of America!" the statement stressed. Threats against German, Austrian and other European enterprises "which take part in the gas supply projects such as the Nord Stream II together with Russia or finance them, with penalties on the US market would add an absolutely new and highly negative aspect in relations between the US and Europe," it stated.
The top officials argued the restrictions have more to do with "providing jobs for the US gas and oil industry" and "pressing the Russian energy supply companies from the European market" than with other goals.
You can share this story on social media: