Israel sends more troops to West Bank after deadly stabbing attack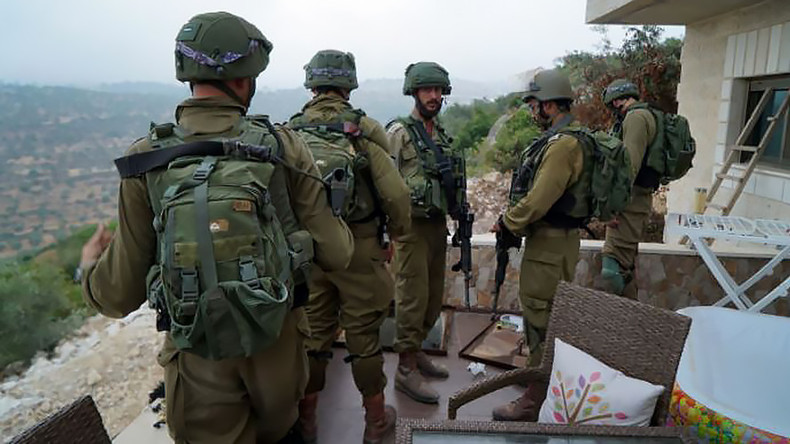 Israel is beefing up its military presence in the West Bank following a stabbing attack which left three Israelis dead and one injured. The assault coincides with escalating tensions over the contested sacred site in Jerusalem.
Following the attack in the West Bank settlement of Halamish, Israel increased its security alert level and dispatched thousands of additional troops to the area, Haaretz reports, citing IDF official.
The attack occurred Friday night, when a 20-year-old Palestinian, identified as Omar al-Abed, got into an Israeli household in the settlement, killing three and wounding one. The attacker was subsequently shot by a neighbor, a vacationing Israeli soldier, according to an IDF statement.
The assailant's father said Saturday that he thought his son was upset with the loss of Palestinian lives in the ongoing violence in Jerusalem, as well as wanting to protect "honor" of the holy site in Jerusalem, AP reported.
The Israeli military imposed a blockade on the village of Khobar Saturday, where the attacker lived, making exceptions for unspecified "humanitarian cases." The military searched his family house and subsequently detained his brother.
The Israeli blockade around the village prompted clashes between IDF troops and local Palestinian youth, who hurled stones and other objects at the soldiers. The troops responded by firing rubber bullets and tear gas.
Israel's Defense Minister Avigdor Lieberman, along with top military commanders, visited the scene of the attack, ordering the demolition of the attacker's home in retaliation. Lieberman also called on Palestinian President Mahmoud Abbas to condemn the attack, describing it as a "slaughter."
Late Friday, Abbas declared the Palestinian Authority was "freezing" all contacts with Israel over the ongoing violence at the Temple Mount (known to Muslims as the Haram al-Sharif). It remains unclear whether the Palestinian leader would respond to Lieberman's call.
Israel's decision to erect metal detectors at the cite, holy both for Jews and Muslims, served as the catalyst for the violent clashes in around the compound. The controversial decision was taken after two border police officers were killed in an attack at the site a week ago.
The new security measures triggered Palestinian protests who consider Tel Aviv's move as a breach of the years long arrangement on the holy sites. The protests promptly turned into violent clashes with security forces, resulting in at least three Palestinians being shot dead by Israeli forces. Hundred have been injured.