ISIS leader al-Baghdadi reported dead for 2nd time in 2 months
Published time: 12 Jul, 2017 18:42
Edited time: 13 Jul, 2017 08:05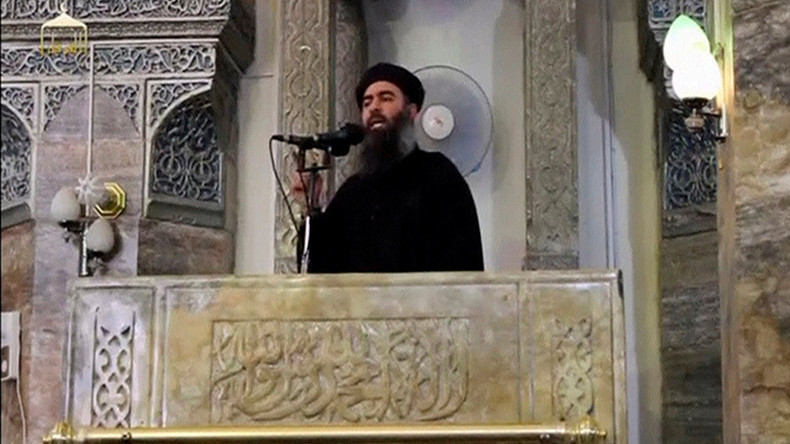 Abu Bakr al-Baghdadi, the leader of Islamic State (IS, former ISIS/ISIL), has been reported dead for the second time in as many months, casting yet more doubt on the fate of the elusive jihadist commander.
Last month, the Russian Foreign Ministry claimed it was "highly likely" that al-Baghdadi had been killed in an airstrike in Raqqa in May, carried out by the Russian Air Force.
READ MORE: ISIS leader al-Baghdadi 'highly likely' eliminated – Russian Foreign Ministry
However, a new report from the Syrian Observatory for Human Rights last week claimed it had "confirmed information" that he was dead in the countryside east of Deir al-Zor citing sources close to IS, reported Reuters, though the specific time frame of al-Baghdadi's demise was not given.
The US would not confirm the report but, in a statement from Colonel Ryan Dillon on Tuesday, US forces said they "hope it is true."
Doubt will always hang over the death of al-Baghdadi, who in 2014 announced the restoration of the caliphate after climbing the pulpit of Mosul's al-Nuri mosque in black clerical garb.
In 2016, the US announced a reward of $25 million for his capture, cementing his status as a key target, who has seemingly returned from the dead several times.
In 2015, al-Baghdadi's condition was subject to speculation after he was seriously wounded in an airstrike in Mosul. Sources close to The Guardian said the wounds were so serious that an urgent meeting of IS leaders was held to discuss his replacement.
Baghdadi went on to make a full recovery, with IS fighters saying they would retaliate for his injuries.
Later that year, a convoy he was believed to be travelling in was bombed by the Iraqi Air Force in Anbar province. "The fate of murderer al-Baghdadi is unknown and he was carried away by a vehicle. His health condition is still unclear," the Iraqi military said in a statement to Reuters.
Eight senior IS figures were killed in the attack, according to local residents, but al-Baghdadi was not among them.
In June 2016, reports of his death again emerged following an airstrike in Raqqa. A post circulating on Telegram in which IS confirmed his death was later revealed to be a doctored image.
Telegram, an encrypted messaging service used by IS, will likely give the best indication of al-Baghdadi's fate. The service is used by the terrorist group to publish official statements.
At the time of publishing, RT has not discovered any posts relating to al-Baghdadi's death on Telegram.