Mount Vesuvius on fire: People evacuated as smoke engulfs volcano, seen from Pompeii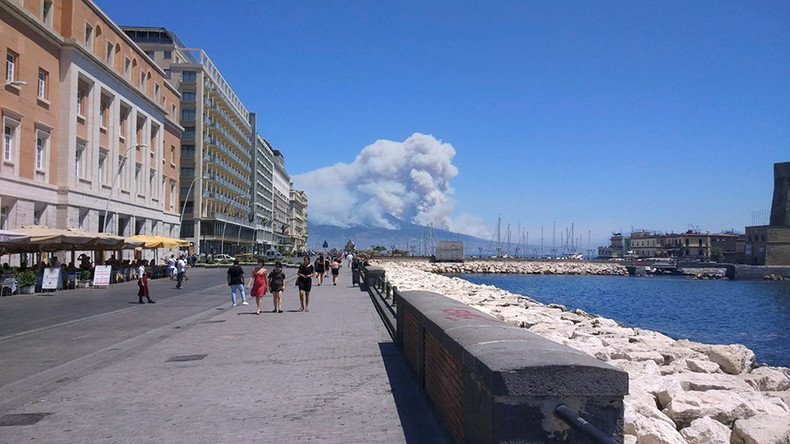 A huge blaze has broken out on the slopes of Italy's Mount Vesuvius and near the city of Naples, prompting an evacuation of tourists and local residents for the second time in a week.
The huge pillars of smoke from fires raging through the forests on the slopes of Vesuvius rose to more than 2 kilometers up in the air and were also 2 kilometers wide at the top, AP reports. Clearly visible from Naples, the smoke deceived some people into believing that the volcano was erupting.
The local weather channel 3B Meteo compared images of the fires with pictures of the volcano's most recent eruption in 1944, which destroyed three villages.
Many tourists, who were visiting the famous archeological site of the Ancient Roman city of Pompeii, not far from Naples, also witnessed huge clouds of smoke darkening the skies.
Some local residents turned to social media to say that ash from the fires fell in many neighboring towns.
According to some twitter posts, hundreds of people were evacuated from the area.
The Italian Civil Protection Agency called the fire outbreak in the Vesuvius National Park one of the "most critical situations," as reported by the Local.
Fires broke out on the volcano's northeastern side, news agency Ansa reported, as well as in two locations on the southwest side, including Via Vesuvio in Herculaneum which was the scene of another blaze the previous week.
Some residents were evacuated from their homes on Monday, local media reported, adding that, on Tuesday, some restaurants, businesses and more homes were evacuated as a precaution.
Italy has faced a large number of fires, following months drought and heat, and the situation is most serious in the south.
More than 600 firefighters and Civil Protection workers were tackling at least 100 active fires in the Italian region of Campania, where Vesuvius is located, on Tuesday.
Sicily has also been particularly severely hit by fires in recent days, with two large blazes breaking out at Enna near the center of the island and Messina at its most northeastern point, the Local reports.
You can share this story on social media: