Secret recording released of Nobel winner Liu Xiaobo being medically treated
Published time: 11 Jul, 2017 21:17
Edited time: 12 Jul, 2017 07:14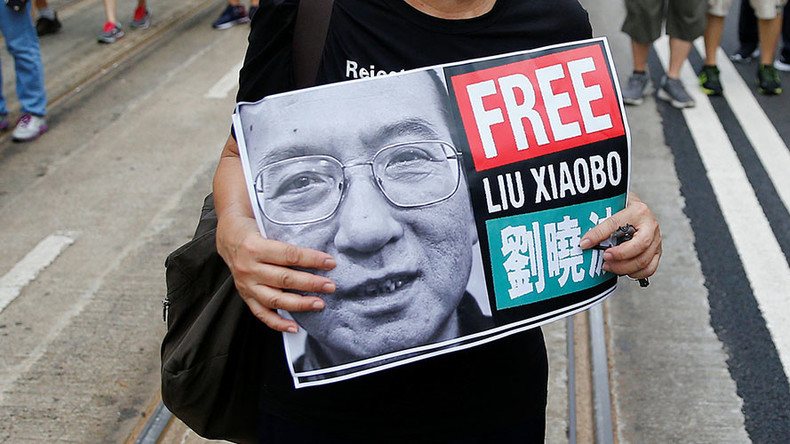 China is under fire from Germany after videos of doctors visiting Nobel Peace Prize winning Chinese dissident Liu Xiaobo in hospital were shared online.
Liu Xiaobo is serving 11 years for subversion of state power for his Nobel Peace Prize-winning activism for human rights and democracy in China. He has terminal liver cancer and was moved from prison to a hospital last month.
Following international pressure, China allowed two doctors, one American and one German, to examine him in Shenyang, in northeast China on Saturday. Reuters reported Xiaobo's lawyer had accused China of hastening his death by refusing to let him be treated overseas.
Two videos of the doctors, Markus Buchler from Germany and Joseph Herman from the US, and Liu were released by Chinese state media.
The German embassy in Beijing released a statement, citing "deep concern" that Chinese authorities recorded the meeting without permission, and said Xiaobo's treatment was being determined by Chinese security services rather than by doctors.
"These recordings were made against the expressed wishes of the German side, which were communicated in writing prior to the visit. It seems that these recordings are being leaked selectively to certain Chinese state media outlets," it said.
"It seems that security organs are steering the process, not medical experts. This behaviour undermines trust in the authorities dealing with Mr Liu's case, which is vital to ensure maximum success of his medical treatment."
Chinese officials have said Liu is too ill to travel abroad for treatment, but, after visiting the dissident, the doctors said he could travel safely for treatment, but it must happen soon.
"The [Chinese] physicians have recommended Mr Liu receive palliative supportive care," the doctors said. "Additional options may exist, including interventional procedures and radiotherapy."
The videos show the two western doctors and Chinese medical staff speaking around Xiaobo's bed, while another video shows the doctors in a conference room.
The videos have been accused of being edited to portray the Chinese medical team in a positive way, and of being part of a ploy to prove Liu is too sick to leave the country.
In the first video, the German doctor commends the Chinese doctors for asking them to come and help, and tells Liu's wife they are very "committed to the treatment" of Liu.
"We oppose any countries interfering in China's domestic affairs by using an individual case," the foreign ministry spokesman, Geng Shuang, said at a press conference in Beijing, the Guardian reports.