Massive fire in Moscow mall, injuries reported (VIDEO)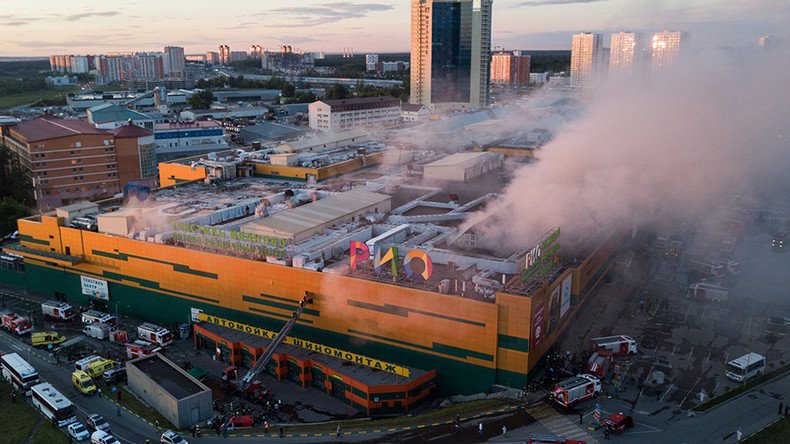 Up to 14 people, including a child, were reportedly injured in a fire which broke out at a shopping mall in the northeast of Moscow on Monday, Emergencies Ministry sources told Russian media.
The Emergencies Ministry later said that the fire at the mall was localized and the threat level had been reduced from four to one.
The building is currently being ventilated, the ministry said, adding that 400 personnel and 188 specialized vehicles were working at the site.
The incident occurred at the Rio shopping mall on Dmitrovskoe Highway.
"Twelve people have been taken to hospitals, one of them a seven-year-old child," the source told Russian media.
14 people required medical assistance due to the fire at the Rio mall, with ten of them being hospitalized, Sergey Gumenyuk, Deputy Director of the Research and Practical Center for Emergency Medical Care, told RIA-Novosti.
According to Gumenyuk, the majority of those hospitalized were diagnosed with "poisoning by combustion gasses."
"There's thick black smoke" as textile products are burning, the source said, adding that "the smoke exhaust system might have malfunctioned in the building."
Two victims of the fire have been evacuated via helicopter to the N.V. Sklifosovsky Scientific Research Institute of First Aid, the Moscow Aviation Center wrote on Twitter.
Four people remain trapped in the Rio shopping mall, with the rescuers currently trying to reach them, Ilya Denisov, head of the Emergencies Ministry Directorate in Moscow, told TASS.
"People are behind a sealed door. We're trying to get through to them. Firemen crawl on the floor under the cover of water from fire hoses as there's a lot of smoke and high temperatures in the building," Denisov said, adding that those trapped are keeping in contact via cell phones.
The fire itself covers an area of about 1,000 sq meters, according to preliminary estimates, the Emergencies Ministry press service told Interfax.
The ministry has assigned a 'difficulty rank' of four to the fire, the second-worst under Russian standards.
"Fifty-eight firefighting units (over 180 personnel) have been sent to the site," its statement read, adding that rescuers are currently searching the mall for people who may have been unable to leave.
The ministry did not elaborate on the number of casualties, but confirmed that there are people injured.
You can share this story on social media: