Thousands protest Japan's new anti-terror law, demand Abe govt resignation (PHOTOS, VIDEO)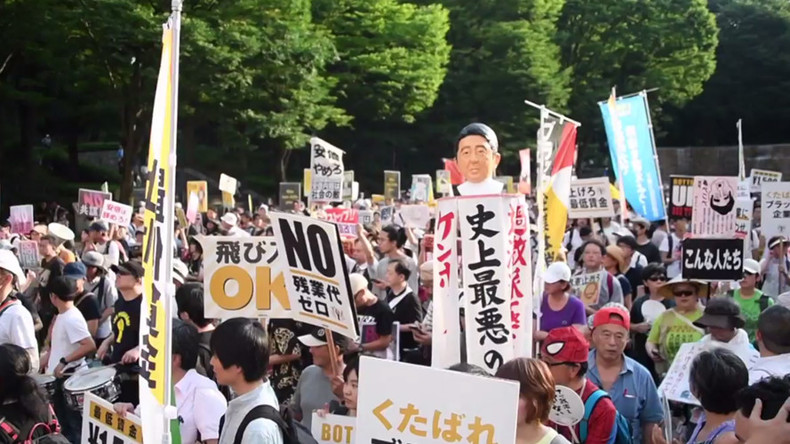 Protesters opposed to new anti-terror legislation have taken to the streets of Tokyo in their thousands to voice anger at the law.
A crowd, which according to a local report was 8,000 strong, gathered in Shinjuku Central Park to denounce the controversial new anti-terrorism measure that was passed in Japan last month.
READ MORE: Thousands protest Japan's controversial 'anti-conspiracy bill' (PHOTOS, VIDEO)
On June 15, the so-called 'Anti-Conspiracy Bill' was enacted by the Japanese government which, it said, was aimed at combating organized crime and terrorism. The new measure authorizes added powers for officers to monitor and arrest "organized criminal groups" that have knowledge of, or plan, a criminal act in unison.
Video of Sunday's protest, obtained by RT's Ruptly agency, shows demonstrators displaying placards denouncing the Japanese prime minister Shinzo Abe and demanding "truth."
According to Asahi news, supporters of SEALDs, a student group which advocates for "liberal democracy," were at also the protest in Shinjuku Central Park.
Abe's new bill has been criticized for its use of vague language, giving rise to suggestions and fears that it could be used to crack down on civil liberties and legitimate protest.
Prior to the bill being passed, UN special rapporteur on the right to privacy, Joseph Cannataci expressed his concern about the law in a letter to the Japanese PM.
READ MORE: US, Japan to take 'specific action' after N. Korea missile hit Japanese economic zone
"Serious concern is expressed that the proposed bill, in its current form and in combination with other legislation, may affect the exercise of the right to privacy as well as other fundamental public freedoms given its potential broad application," Cannataci wrote.
"In particular I am concerned by the risks of arbitrary application of this legislation given the vague definition of what would constitute the 'planning' and the 'preparatory actions,'" he said.