German soldiers banned from wearing uniforms during G20 summit amid attack fears – report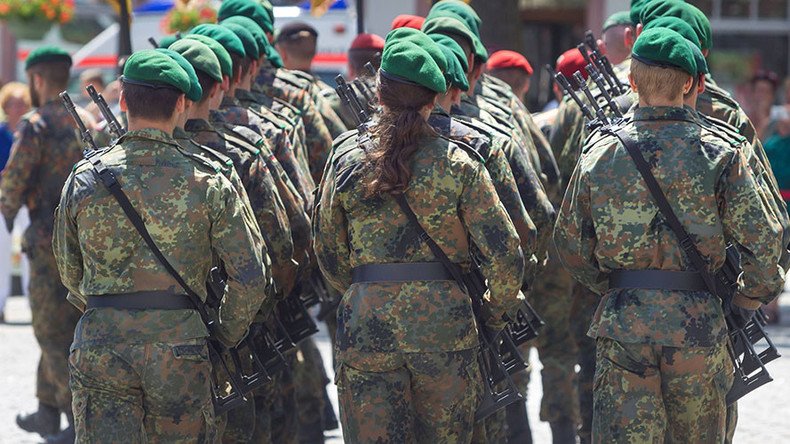 Germany's Defense Ministry has reportedly warned armed forces deployed in Hamburg area of possible attacks from 'violent left-wing extremist protesters,' ordering a ban on military uniforms outside the barracks during the G20 summit.
"Soldiers in uniform who are moving around the city during the announced protests could be the target of spontaneous attacks by violent left-wing extremist protesters," Spiegel Online cited an internal memo from the defense ministry as saying. It is reported that the order followed the military counterintelligence service's (MAD) findings on G20 protests.
In order to avoid attacks, soldiers have been ordered to appear in civilian dress in the host city from July 5 to 9, while meetings are taking place.
READ MORE: 'Welcome to Hell': Police flood Hamburg as city prepares for massive anti-G20 protests
Apart from the uniform ban, strict safety rules have been imposed on all Bundeswehr sites, since these are "exposed to an increased risk of blockade and spontaneous demonstrations."
According to the MAD's conclusions, protesters could attempt to disrupt the summit by occupying streets and logistics routes, as well as by targeting urban infrastructure and the city's port.
Up to 10,000 protesters from across Europe are expected to flock to Hamburg, the report says, specifically making mention of anti-capitalist demonstrators from Greece, Spain, and Italy. It added that the protesters may target the G20 summit, as they regard it as representing capitalism.
At least 15,000 police officers from all German states have arrived in Hamburg to ensure public safety with the help of the military. While the military's assistance currently includes logistics support, it is poised to provide paramedics, air force support, and toxicology experts in case of emergency.
Earlier, Interior Minister Thomas de Maiziere warned that while peaceful demonstrations are welcome, violent protests will not be tolerated.
"No demonstrator can determine whether and when and where leaders of states and governments meet in Germany upon the chancellor's invitation," minister said.
Hamburg Interior Minister Andy Grote warned about violent actions during the protests, but assured the public that police are "prepared for this."
Protests began days before the opening of the G20 summit, scheduled for Friday. Riot police used water cannon against protesters opposing the summit on Tuesday night. Thousands of activists had been rallying throughout the day on the Hamburg streets.
You can share this story on social media: