Jewish fanatic convicted of arson attack on Christ's 'loaves & fishes' church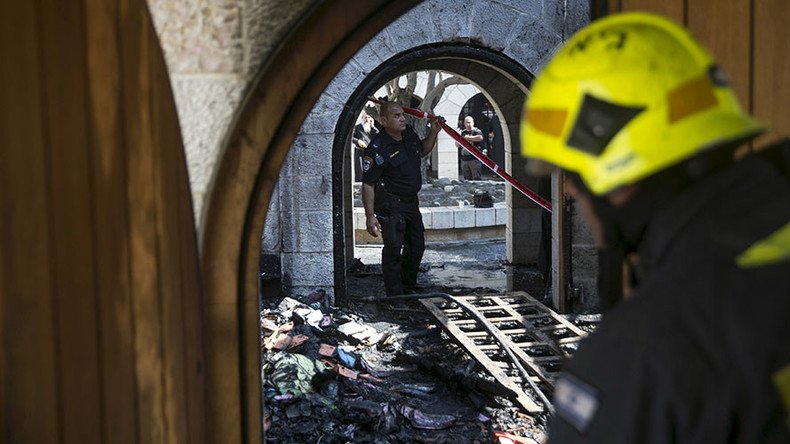 Israeli settler Yinon Reuveni has been convicted of an arson attack on the church where Jesus is believed to have performed the miracle of the loaves and fishes.
The Nazareth District Court found Reuveni guilty of the 2015 attack on the Church of the Multiplication of Loaves and Fishes in Tabgha, on the shores of the Sea of Galilee.
The fire destroyed a building on the 5th century church grounds and Hebrew graffiti at the scene read: "Idols will be cast out or destroyed." A monk and a volunteer were hospitalized after suffering smoke inhalation.
During the 2015 indictment, Shin Bet, the Israeli security service, said Reuveni was a suspect in a number of hate crimes, including an arson attack on Dormition Abbey in Jerusalem. The 22 year old had been banished from the West Bank on a number of occasions, the Times of Israel reports.
Reuveni was also charged with committing acts of violence against Palestinians in 2016, as part of an investigation into Jewish extremists in the West Bank, and with being part of a terrorist organization.
Reuveni is believed to be a member of The Revolt, an extreme settler group founded by Meir Ettinger with beginnings in the Yitzhar settlement outpost. The group's stronghold is in the Baladim outpost, Ynet reports.
The court acquitted Yehuda Asraf of being an accomplice in assisting Reuveni.
Itamar Ben Givr, lawyer for the two, said he would challenge the decision. "The judgment ignored most of the claims that we made during the trial," he said. "The judge did not give fair treatment to the defense that we presented."
The church, which receives about 5,000 visitors a day, opened in February after undergoing about $1 million in repairs, the Times of Israel reports.
According to Christian beliefs, Jesus Christ blessed a small portion of fish and bread which then multiplied to feed thousands.
You can share this story on social media: