Shell recalls cardboard cutouts of female employee after groping pics emerge (PHOTOS)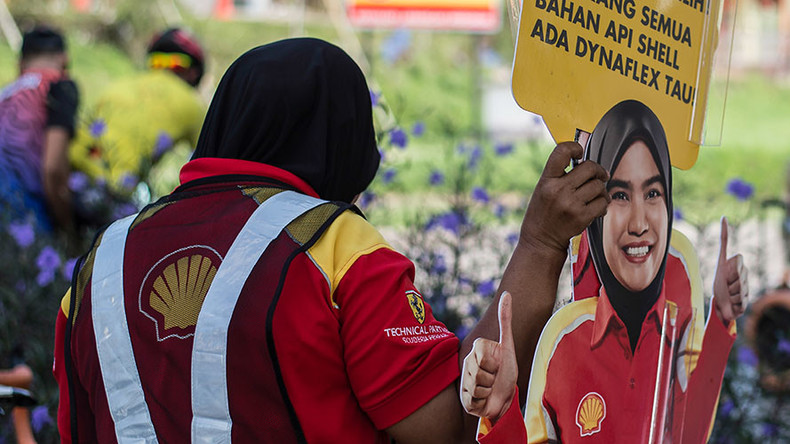 Shell energy company is removing advertisements featuring a life-size cutout of a Malaysian woman in a headscarf, after photos of men groping it emerged online. The cutouts were on display at petrol stations in the Muslim-majority country.
The cutouts aren't exactly provocative – they feature a female Shell employee wearing a red t-shirt bearing the company's logo, along with black trousers and a black headscarf.
She appears happy, smiling with her thumb raised in the air.
However, it didn't take long for some to make the cutouts more sexual, taking photos of themselves kissing the woman, holding her hand, and grabbing her chest and crotch.
Many of the pictures were posted on Facebook, prompting Shell to respond by calling the men's actions "distasteful and suggestive acts."
"We do not condone this disrespectful act, which is completely against the culture of Malaysians and Shell's core values. We urge netizens and members of the public to refrain from sharing these images further," Shell said in a statement, as quoted by AFP.
"The standee (cutout) will be removed from all our sites with immediate effect," Shell added.
The woman featured on the cutouts has also spoken out, criticizing the men's "extreme behavior."
"They may just be joking, but I feel humiliated because that is still myself although it is just an image," the woman, who was identified by local media as 25-year-old Shell employee Nor Shafila Khairusalleh, told mStar news outlet.
Shell has not said how many cutouts will be removed from the country's petrol stations, but the company has more than 950 stations across Malaysia, according to its website.
Malaysia, where more than 60 percent of the population is Muslim, has seen a rise in religious conservatism in recent years.