Indian authorities doubt story of woman who 'suffered 5th acid attack' despite police protection
Published time: 3 Jul, 2017 23:09
Edited time: 4 Jul, 2017 13:11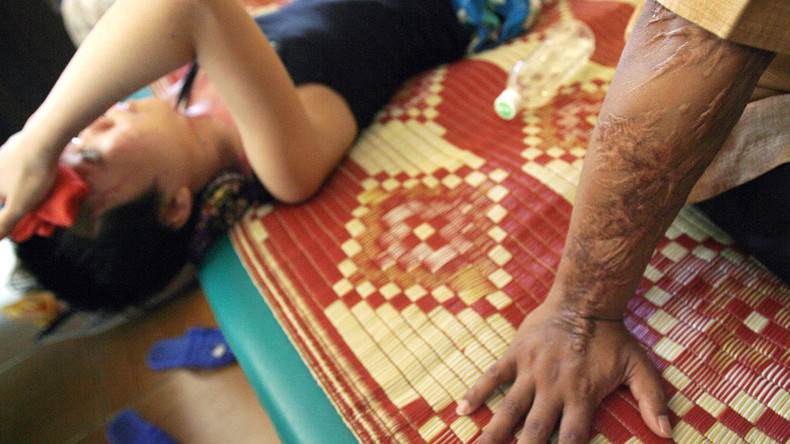 Investigators in the Indian state of Uttar Pradesh have questioned the account of a woman who said that she had been attacked with acid by her alleged gang rapists for a fifth time despite police protection, hours after the story of the attack made worldwide headlines.
Following previous allegations, the 35-year-old woman, whose name has not been made public, was under 24-hour police protection at a women's shelter, when her assailants allegedly climbed over the walls and splashed her with acid once again.
The woman is currently undergoing treatment for face and neck burns at King George Medical University, in the state capital, Lucknow. Officials, however, have implied that the attack might have been staged by the woman herself.
"Whatever evidence we have gathered doesn't support the theory she was attacked by acid by anybody else,"said police officer Vivek Tripathi, as quoted by the Guardian.
Tripathi said that the on-duty police officer and the shelter's security guard had not noticed any unusual activity around the time of the incident, and failed to find any footprints on the wall or the spot where the corrosive had allegedly been splashed.
On the other hand, an empty bottle was reportedly found in the woman's bathroom, from where she emerged before crying for help. Forensic experts have also raised questions about the lack of acid damage on the victim's clothes.
"[The acid] was not on her clothes, it was applied on her face and neck. The markers should not be so uniform," said Tripathi.
Officials added that two brothers who were suspected of carrying out the attack were arrested Saturday. They were located in Raebareli, a city 80 km to the south of Lucknow, where they were originally neighbors with the woman.
A property dispute back in 2008 is said to have triggered the cycle of violence, though the woman claimed that several of the attacks were aimed at pressuring her to drop charges. The suspects and their families had been cleared of eight previous allegations, including gang rape, a knife assault, and four previous acid attacks.
Independent groups report about 300 documented acid attacks each year in India, though many more likely remain off the record. Most attacks are linked either to romantic disputes and rejections, or less commonly, property disagreements.
The leading specialized NGO Acid Survivors' Foundation of India told the Guardian the doubts over the woman's claims presented "a challenge" for their team, but promised "not to leave her alone."