14 people, incl. 4 children, killed as bus collides with truck in Tatarstan, Russia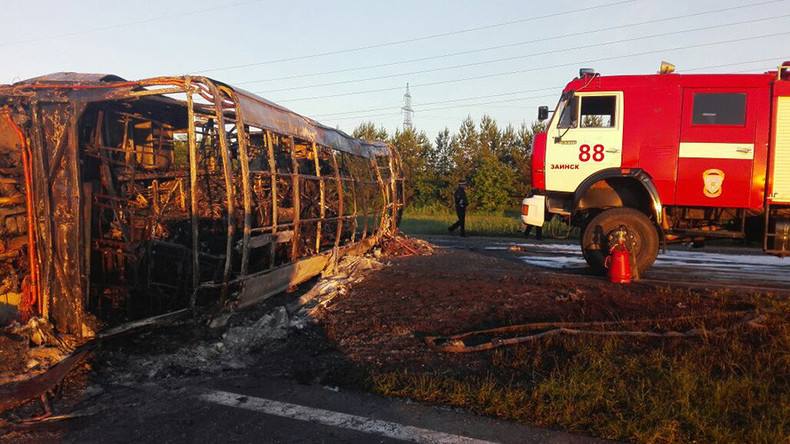 At least 14 people, including four children, were killed and 15 injured when a bus collided with a truck towing another vehicle, with all three overturning and catching fire in the Russian Republic of Tatarstan.
The incident occurred near the city of Zainsk, some 300km east of the republic's capital, Kazan, on Saturday night. A passenger bus collided with a moving a KAMAZ vehicle which was towing a MAN truck.
The bus was traveling from the city of Samara to Izhevsk with 28 passengers on board, Tatarstan's Prime Minister Aleksey Pesoshin said in a statement, confirming that 14 people were killed. At least five of those injured are in a serious condition, he added.
At least four children are among those killed in the tragedy, Elvira Gazizova from a local branch of Russia's Investigative Committee, told RIA Novosti. The youngest was nearly a year old (born in 2016), she added.
After the collision the bus overturned and caught fire. The blaze spread in the bus in a few seconds, RIA Novosti cited local police.
"I heard people shouting: 'Get out'... I got through [the bus] and [finally] I was pulled out. I saw the bus getting more on fire and we ran. Suddenly an explosion rocked [the area]," a passenger from the bus, Aleksandra Samoleonne, told Channel One Russia.
Another passenger, Maria Novoselova, said she was sleeping when the accident took place.
"I wanted to escape via the right side of the bus, but it was in flames," she said, adding that she eventually escaped via an emergency exit.
The Investigative Committee is looking into three possible causes of the accident: the bus driver may have been blinded by headlights, have fallen asleep at the wheel or failed to control the bus as he attempted to overtake the truck, Russia's RIA Novosti reported.
The driver of the MAN truck is being questioned, local police said. The two other drivers, of the bus and KAMAZ vehicle, are currently in hospital and will be questioned later, they added.