20 killed as suicide bombing hits Damascus (PHOTOS, VIDEO)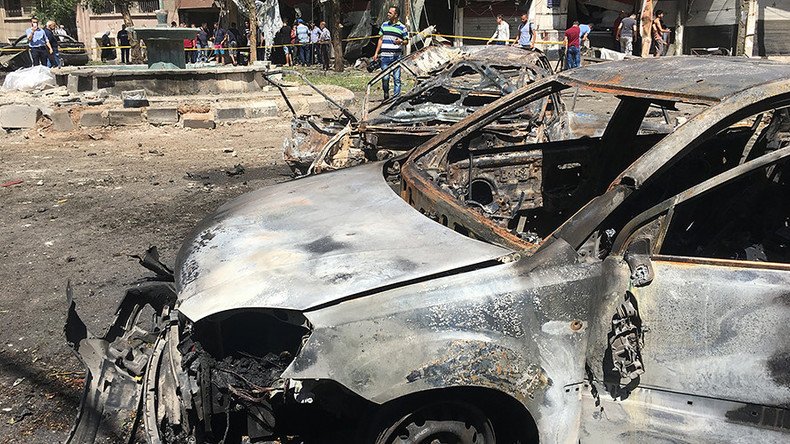 20 people were killed when a suicide bomber blew himself up in the Syrian capital, Damascus, on Sunday, the Syrian Foreign Ministry said in a letter to the UN, as cited by SANA news agency.
The bomber was in one of three cars, each with bombs, that had been pursued by Syrian authorities. The two other bombs were destroyed by police at a separate location in western Damascus, state TV said.
"Authorities were pursuing three cars with bombs inside and managed to blow up two of them before entering the city," the statement from state TV said, as cited by AFP.
Police surrounded the third car in Tahrir Square, where "the terrorist blew himself up resulting in people dead and injured," TV added without elaborating on the figures.
Unverified images circulating on Twitter show pillars of smoke rising over the Syrian capital.
The security forces said the targets were busy areas in the capital where people were returning to work for the first time after the Eid al-Fitr holiday.
Footage by state TV from one of the sites showed badly damaged vehicles outside a mosque in the Baytara traffic roundabout near the Old City, together with what appears to be human remains.
Terrorist attacks continue to hit areas across Syria. On Saturday, at least four people were killed and 35 injured in terrorist attacks across the Damascus countryside and in the cities of Quneitra, Homs and Daraa, according to Sana news agency.
In June, one person was killed and others injured when a rocket shell hit Harfa village in the Damascus countryside, the agency said.
You can share this story on social media: