'No-Go Zone' app allows Parisians to report & locate aggression, other crimes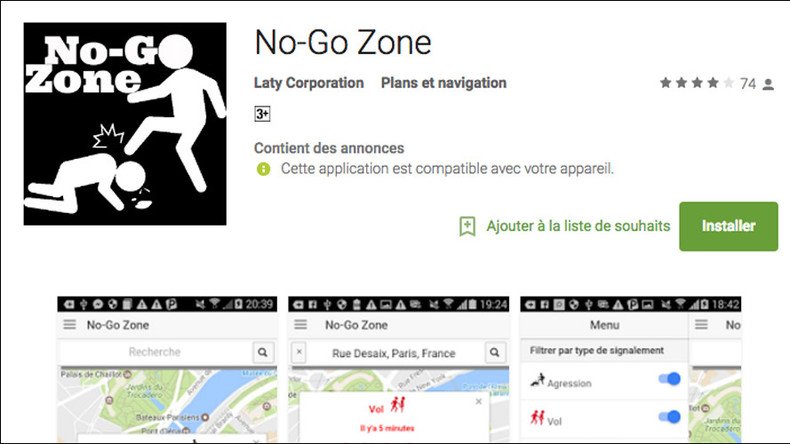 Parisians worried about safety in the French capital can download an app which allows them to report, locate and avoid "hazardous locations." It comes as France remains at the highest possible terrorism alert.
The 'No-Go Zone' app allows users to share instances of "aggression, theft, harassment, or incivility" in the city, and mark the location of those events on a map.
Others can view the entries, allowing them to be informed about what is happening around them.
"Whether you are staying in an unknown location, looking for a safe place to live, on your way to a specific location, or for whatever reason, No-Go Zone allows you to reduce any risk of aggression, theft, harassment or incivility," the app's description states.
Reviews for the app, which now has an installation count of 1,000-5,000, are mostly positive, with many users calling it "essential" and an "excellent idea."
In what appeared to be a reference to France's immigrant population, one user called the app an "indispensable application for anyone who thinks that the cultural 'enrichment' of non-natives is not compatible with our way of life."
One other report, however, branded the app a "false alert" and wondered if it's liable to prosecution for potentially fake information.
Paris saw a surge in migrants last year after the notorious Calais 'Jungle' camp was dismantled, with many of the city's streets filling up with tents and makeshift shelters. In January, a Doctors Without Borders report stated that police were stealing migrants' blankets and dispersing them with tear gas in below-freezing temperatures.
France, along with other European countries, also saw an increase in asylum seekers following the 2015 refugee crisis, which represented the worst of its kind since World War II.
Meanwhile, Paris and the rest of France has been at the highest possible level of terrorist alert since 2015, a year which saw the Charlie Hebdo attack and a series of Paris attacks which left 130 people dead.
The country has seen a number of attacks since then, including in July 2016 when an extremist plowed a lorry through crowds celebrating Bastille Day in Nice, killing 86 people.
You can share this story on social media: