Man arrested after trying to ram car into crowd near French mosque – police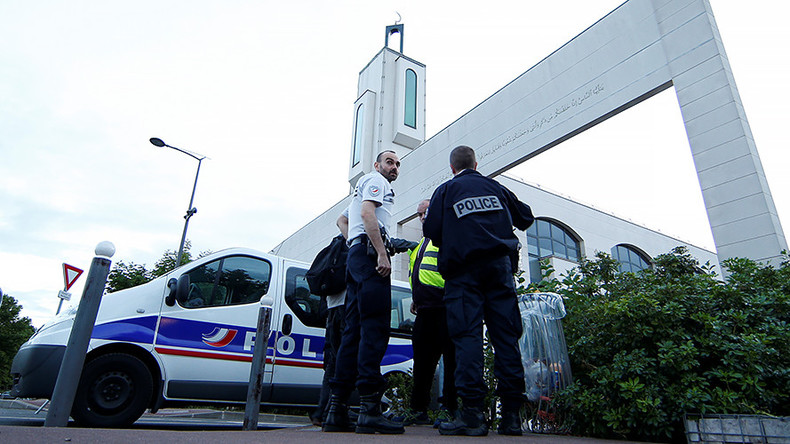 A man was arrested after attempting to drive a car into people in front of a mosque in the Paris suburb of Creteil, police said in a statement. No one was injured in the incident, and the suspect was detained.
The man did not succeed in driving his 4x4 vehicle into the crowd due to barriers erected in front of the mosque, according to police. The motives of the suspect remain unclear so far.
The suspect's car "repeatedly struck the blocks and barriers placed to protect the mosque," but to no avail, the police said in their statement.
Police chief Michel Delpuech said he "strongly condemns these events" and pledges to do everything possible for the investigation to "to clarify the driver's motivation and determine his criminal responsibility," according to the statement.
The suspect, of Armenian origin, allegedly wanted to "avenge the Bataclan and Champs-Elysees [attacks]," Le Parisien newspaper reports, citing an unnamed source.
Earlier in June, a van attack occurred near London's Finsbury Park mosque, leaving one person dead and 10 injured. The suspect in that attack, 47-year-old Darren Osborne, allegedly shouted: "I want to kill all Muslims - I did my bit," immediately after the van he hired mowed down a group of Muslim worshipers.
France has been in a repeatedly prolonged state of emergency since a terrorist attack in Paris in November 2015 that killed 130 people and left nearly 400 injured. Last month, a police officer was killed and two seriously injured following a shooting on the Champs-Elysees. Earlier this month, another incident occurred on the iconic Paris boulevard, when a man tried to ram a police vehicle with a car, packed with explosives and weapons. The suspect was the only victim of that botched attack.
You can share this story on social media: