More 'confident & capable' Russia could emerge over next decade – Pentagon
Published time: 29 Jun, 2017 12:53
Edited time: 30 Jun, 2017 08:25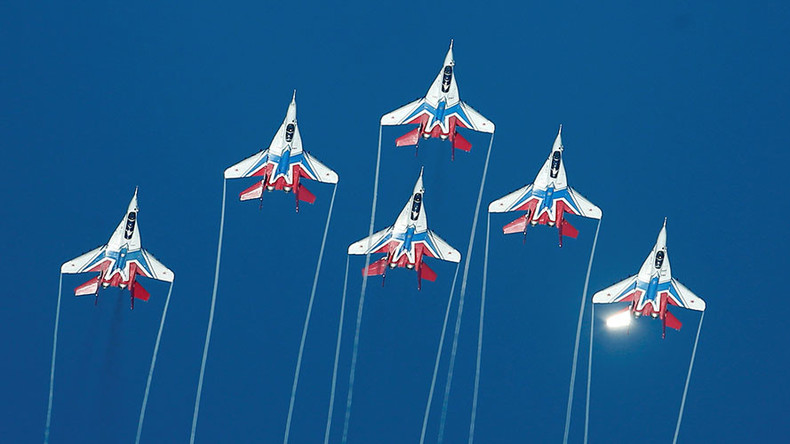 A more confident and capable Russia could emerge within the next decade, according to a US Defense Intelligence Agency (DIA) report. It goes on to describe the Russian military as "rapidly" advancing.
The report, released by the Pentagon's intelligence arm on Wednesday, paints Moscow as being increasingly wary of the US.
It specifically notes the Kremlin's "deep and abiding distrust of US efforts to promote democracy around the world and what it perceives as a US campaign to impose a single set of global values."
"The Kremlin is convinced the United States is laying the groundwork for regime change in Russia, a conviction further reinforced by the events in Ukraine," the report states.
The remark refers to Russian President Vladimir Putin's previous statements that the US was behind the uprising which ousted former Ukrainian President Viktor Yanukovich from power in 2014.
It then states that Russia "annexed" Crimea and supported pro-Russian separatists in eastern Ukraine. Crimea was reunited with Russia in 2014, following a referendum.
Furthermore, the report - the first such unclassified assessment in more than 20 years - states that "Moscow worries that US attempts to dictate a set of acceptable international norms threatens the foundations of Kremlin power by giving license for foreign meddling in Russia's internal affairs."
Moscow's apparent "worries," however, won't stop it from becoming stronger, according to the report.
"Within the next decade, an even more confident and capable Russia could emerge," the DIA's director, Marine Lt. Gen. Vincent R. Stewart, wrote in a preface to the report.
Russia also intends to "use its military to promote stability on its own terms," the report claims.
The document details Moscow's military capabilities, portraying Russia as a country which is constantly strengthening its armed forces.
"The Russian military today is on the rise - not as the same Soviet force that faced the West in the Cold War, dependent on large units with heavy equipment," the report says.
It describes the modern-day Russian military as a "smaller, more mobile, balanced force rapidly becoming capable of conducting the full range of modern warfare."
The report also mentions China and its "common interest" with Russia in "weakening US global influence."
According to the report, Beijing and Moscow are "actively cooperating" to reach that goal.
"Military cooperation between the two countries is slowly expanding, as are economic ties," it states.
The Kremlin has responded to the report, stating that the US is indeed engaging in a regime change campaign.
"This attempt at analysis made in the mentioned report is justified," Kremlin spokesperson Dmitry Peskov told reporters on Thursday.
"Numerous attempts to intervene in Russia's internal affairs have been made over the course of many years, this is no secret," he added.