'Big convenient marine target' – Russian MoD on new British aircraft carrier HMS Queen Elizabeth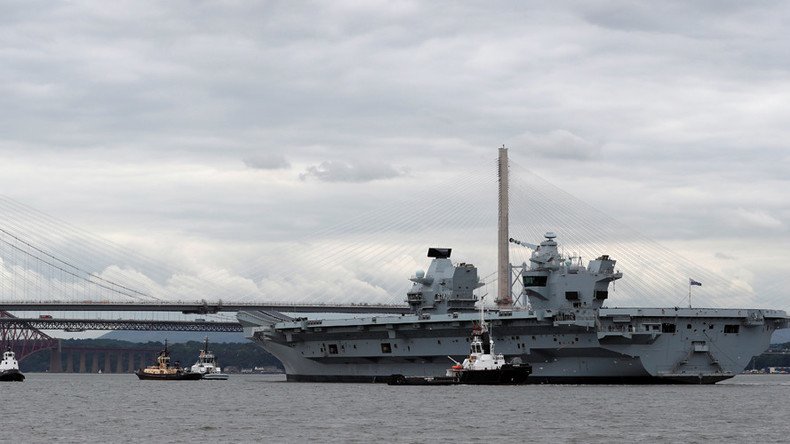 The Russian Defense Ministry has called the latest Royal Navy aircraft carrier a "big convenient marine target," comparing it to a queen bee that is not capable of defending itself without a "hive" of other warships.
The statement comes after UK Defense Secretary Michael Fallon said that the Russians will be jealous of the 65,000-ton HMS Queen Elizabeth.
"When you saw that old, dilapidated Kuznetsov sailing through the Channel, a few months ago, I think the Russians will look at this ship with a little bit of envy," Michael Fallon told the Telegraph on Tuesday.
Russian Defense Ministry spokesman Igor Konashenkov said that Fallon's "exalted" statement shows "blatant ignorance of naval science."
"In the same way as bees, the British aircraft carrier alone is only able to release aircraft from its belly, while she is densely surrounded by a hive of warships, logistics vessels and submarines protecting her."
He also added that the Russian vessel is equipped with anti-aircraft, anti-submarine, and – most importantly – with Granit anti-ship cruise missiles.
"Unlike the flagship aircraft carrier Admiral Kuznetsov, the British HMS Queen Elizabeth is just a big convenient marine target," Konashenkov said.
The defense ministry spokesman also advised the Royal Navy not to "demonstrate the 'beauty' of its aircraft carrier closer than several hundred miles from her 'distant relative.'"
The new aircraft carrier was floated out on Monday. A report emerged later in the day, saying that the vessel runs on outdated Windows XP software, which has not been supported by Microsoft since 2014. The system is also vulnerable to cyberattacks, as was seen in May, when it struck the National Health Service (NHS) which uses the same software.
You can share this story on social media: