Deadly Chinese landslide's aftermath shown in drone footage (VIDEOS)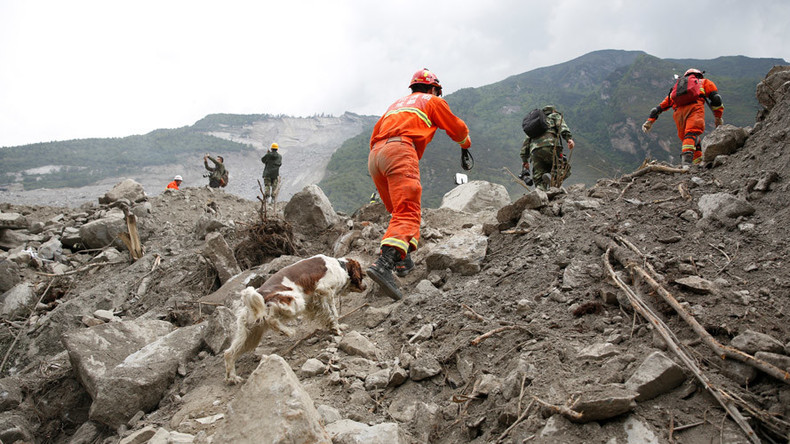 Up to 100 people are feared dead after a devastating landslide buried an entire village in rural China on Saturday. Rescue efforts are ongoing but authorities have expressed little hope of finding any survivors.
At least 93 people are still missing following the mudslide which flattened the village of Xinmo, in the mountainous Sichuan province, under an estimated 8 million cubic metres (282 million cubic feet) of earth and mud.
"Many of the villagers have been living here for generations and have seen no major geological disasters," Xu Qiang, a disaster expert at the Ministry of Land and Resources, told Reuters. "This is their home and livelihood and it is very difficult to convince them to leave, especially when you only have a hypothesis and predictions."
Fifteen people have already been confirmed dead as 3,000 personnel, including firefighters, medical staff and police with life detectors and sniffer dogs continue search and rescue operations.
Workers using heavy equipment including cranes, bulldozers and heavy diggers continue to dig through the debris, which blocked a 2-kilometer (1.2-mile) stretch of a nearby river.
A security cordon was initially established around the village but was later lifted Monday, allowing hundreds of local residents to return despite the ongoing risk of secondary landslides.
Local authorities claim that a combination of heavy rainfall and a lack of vegetation exacerbated the extent of Saturday's early morning landslide, which destroyed up to 40 homes.
"Every single family has been impacted by the landslide, it's horrible," said Sun Danxian, a resident of a nearby village, as cited by Reuters.
The region is known for severe seismic activity. In 2008, a powerful 8.0 magnitude quake killed nearly 70,000 people in the neighboring Wenchuan county.