Israeli settlers suspected of destroying 45 olive trees in act of 'revenge' against Palestinians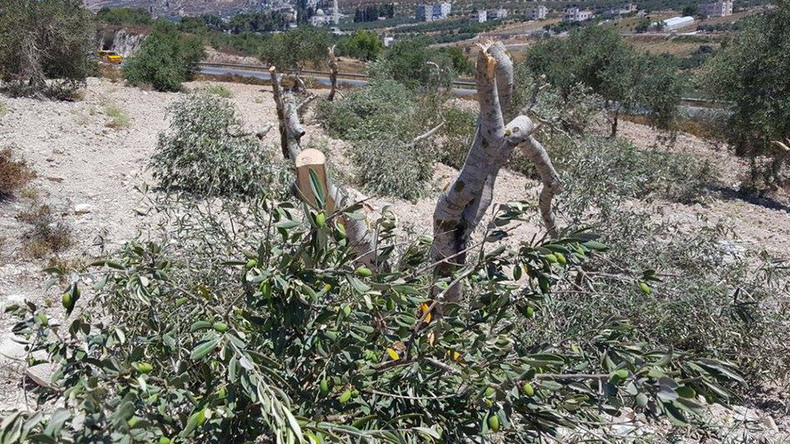 Palestinians from the West Bank village of Burin discovered 45 olive trees destroyed and graffiti reading "revenge," in what appears to be a deliberate attack by extreme Israeli settlers.
Israeli NGO, Rabbis for Human Rights shared images of the aftermath of the incident on Sunday, including one showing an Israeli Civil Administration soldier surveying the damage. The Hebrew word for "revenge" was spray-painted on a stone.
"The current Burin vandalism is a part of an enduring phenomenon of vandalism and violence against Palestinian farmers that mostly affect their olive groves - which is a big part of their income and livelihood," Yariv Mohar from Rabbis for Human Rights told RT. "It is mostly done by extremist settlers, and there is not enough law enforcement by the Israeli security forces."
A spokesperson for the police said they were looking into the case. Maan News reports the incident is the latest in a spate of attacks on Palestinians and their property near the Israeli Yitzhar settlement. In May, a tractor was set on fire in Burin, with the word "revenge" spray painted on a wall, the Times of Israel reports.
The largely Orthodox Jewish community of Yitzhar has a reputation for being extreme, and were called "radical" by the New York Times. The settlement has a number of outposts, which are unauthorized and illegal even under Israeli law. Meanwhile, under international law, all settlements on occupied Palestinian territory are considered illegal.
Members of the Yitzhar settlement have been caught actively taking part in the "price tag policy," which calls for attacks on Palestinians in retaliation for Palestinian attacks and for Israeli government actions taken against West Bank settlers.
Haaretz reported Sunday that even though nine attacks by settlers have been caught on camera over the last two months, the culprits are escaping with no charges.
Israeli security chiefs have called on far-right rabbis to restrain members of the extreme "hilltop youth" following a series of hate crimes, the Times of Israel reports.