At least 6 dead, 31 missing after crowded tourist boat sinks in Colombian reservoir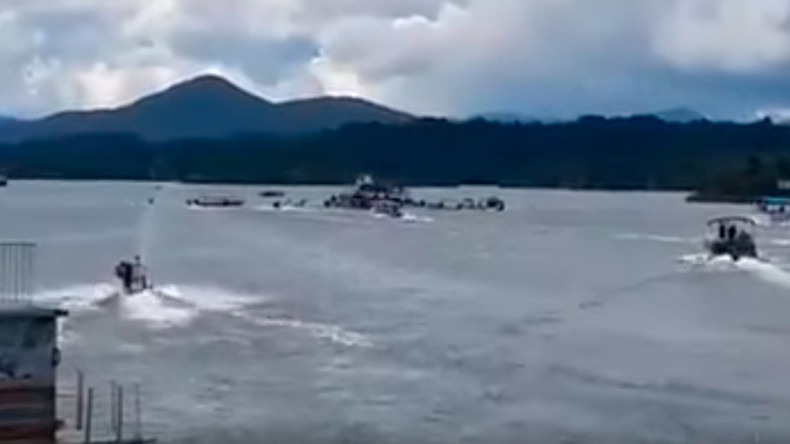 A tourist boat carrying around 160 people has sunk in the Penol reservoir in northwest Colombia, the country's air force confirmed, saying that a search operation is under way.
Six people have died in the disaster, the country's president, Juan Manuel Santos, confirmed after visiting the site of the tragedy. The rescuers managed to save 122 people, while 31 passengers are still missing, the president said, Spanish-language media reported.
Santos added that the missing persons could have been saved by the private boats that came to the initial rescue. Divers, however, will continue to search overnight for the missing people.
Earlier, based on the information provided by the director of the Administrative Department of Disaster Prevention (DAPARD), it was reported that nine people had died while 28 remained missing.
The sinking occurred at around 2:00pm local time, close to the embankment of the Peñol-Guatapé reservoir, Victoria Eugenia Ramírez, Antioquia's government secretary, told the Colombian daily El País.
The incident took place at the El Peñol de Guatapé dam, a popular tourist site, El Universo reported the Colombian Air Force as saying. According to preliminary information, the four-decked vessel was at maximum capacity at the time of the incident.
Ramírez specified that there was no clash with any other vessel, but the reasons for the incident still remain unclear. Eyewitnesses say passengers were not wearing life vests, so authorities have activated an emergency protocol to rescue the sinking ship.
The rescue operation has been launched with the support of the air force, navy, army and police. The military dispatched a Sikorsky UH-60 helicopter to support the rescue mission.
"We are ready to provide any assistance required," the country's president, Juan Manuel Santos, said on Twitter.
The Colombian Air Force said that its aircraft and crews are ready to airlift the people with "most serious" injuries who "require immediate attention."
All rescue groups in eastern Antioquia and the Aburrá Valley were dispatched to help the rescue, according to Luis Bernardo Morales, the captain of the Envigado fire department, El Tiempo reports. A group of divers also arrived at the reservoir to search for possible victims' bodies.
As the search and rescue operation continues, all access roads to the reservoir and the nearby town of Guatapé have been closed to private vehicles.