1000s evacuated as Spanish wildfire rips through UNESCO World Heritage site (PHOTOS, VIDEOS)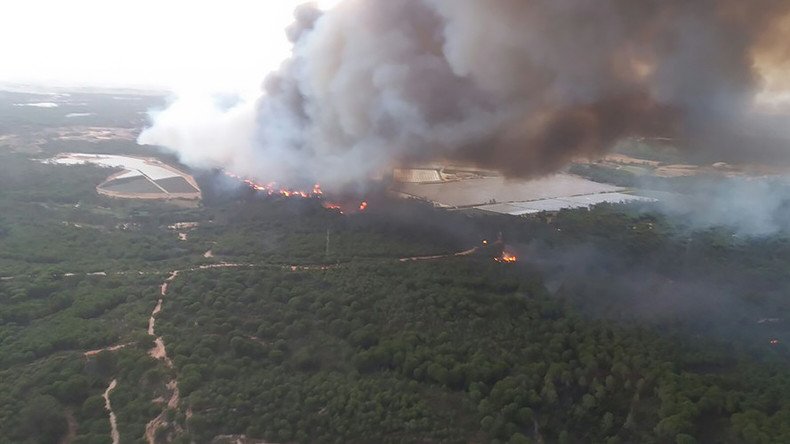 Over 2,000 people have been evacuated from towns in southern Spain after huge wildfires spread to the Donana National Park, a UNESCO world heritage site.
People living in Moguer and Mazagon, located close to the inferno, have been evacuated by Spanish authorities as a precaution in light of the 64 deaths caused last week by a blazing wildfire in neighboring Portugal.
There have been no reports of injuries so far in Spain.
"The fire has entered in the limits of the reserve, and that is where we are focusing our efforts," Jose Gregorio Fiscal Lopez from the regional Andalusian authority in charge of the environment said as cited by The Deccan Chronicle.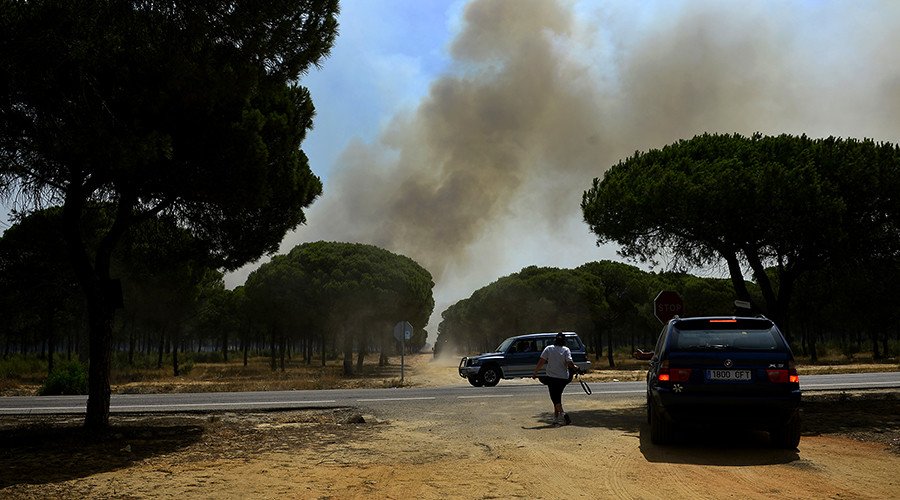 The 50,000 hectare (123,550 acre) nature reserve is an important stop for migratory birds travelling from Africa to Europe and vice versa, in addition to being home to two highly endangered species, the Iberian lynx and the Iberian imperial eagle.
An ongoing heatwave, with daily temperatures reaching 39 degrees Celsius (102 degrees Fahrenheit), combined with shifting winds of up to 60 kph (37 mph) has exacerbated the wildfire threat across the Iberian peninsula.
Susana Diaz, the regional president of Andalusia, said "there's no risk to the population" but added that authorities "are not ruling out the human factor" as a possible cause of the fire.
Díaz also described the emergency services operation as "exemplary," as cited by El Mundo.
Hotel guests, local residents and 600 staff at the National Institute of Aerospace technology were all evacuated Sunday morning as the blaze continued to spread and over 60 firefighters and 21 air units were combating the blaze reports InfoLibre.
Four drones are being used to help monitor the spread of the fire and coordinate firefighting efforts.
Novedad #CampañaContraIncendios: 4 drones para vigilancia y seguimiento nocturno y sistema informático Hermes para gestión global de medios

— Antonio Sanz Cabello (@antoniosanz) June 23, 2017
The Spanish Air Force has been heavily involved in the battle against the wildfires in central Portugal in recent weeks and resources may have to be reallocated if the blaze in southern Spain is not brought under control soon.
You can share this story on social media: